Estimated read time: 2-3 minutes
This archived news story is available only for your personal, non-commercial use. Information in the story may be outdated or superseded by additional information. Reading or replaying the story in its archived form does not constitute a republication of the story.
FARMINGTON -- A Farmington man is in Davis County Jail after police and FBI agents searched his home Tuesday night and found two pipe bombs. The arrest followed an investigation by the FBI's Joint Terrorism Task Force and Farmington detectives.
An FBI spokesman said anyone who constructed a bomb was a danger to themselves and the public, but the neighbors of Brandon Easter, who lives in a Farmington house near 860 South and 50 East, said he is not the type of guy who would intentionally hurt anyone.
Neighbor Carla Eskelsen said, "I've never seen him be anything but gentle, friendly and helpful here."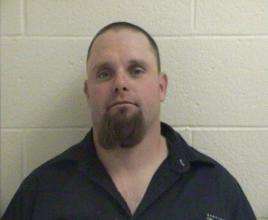 Neighbors who know the 33-year-old Easter said his bomb-making activities were unintended.
A neighbor who did not want to be identified told KSL News, "You know, it's kind of like a hobby, but it's a bad hobby."
Easter was arrested Tuesday night after FBI agents were notified that he had been constructing an explosive device in his garage.
FBI Special Agent Juan Becerra said, "It was an arrest that took place very quickly, without any type of incident."
Two pipe bombs were found in the house; one fully constructed and another Easter was currently working on. That didn't surprise a neighbor who has seen gun tinkering with other bombs before.
She said, "He just throws them down the street to see if they go off, if they don't go off."
Neighbors say Easter has lived in the neighborhood for about five years and has had a tough time lately with his recent divorce. Carla Eskelsen said he's been a little bit confused lately but not aggressive. She said, "I know he's getting therapy, and hopefully he will work out what's bothering him, but that might not have to do with the reason he made bombs."
Regardless of his reasons, whether it's a hobby or not, the FBI said making a pipe bomb is against the law. They were happy to have caught him before someone got hurt.
Becerra said, "The FBI sees any individual who would construct an explosive device not only as a danger to himself, but to the public. So, we take these things quite seriously."
The FBI says official charges will be filed in Federal court later this week.
------
Story compiled with contributions from Shara Park , Andrew Adams and Randall Jeppesen.
×
Most recent Utah stories