Estimated read time: 5-6 minutes
This archived news story is available only for your personal, non-commercial use. Information in the story may be outdated or superseded by additional information. Reading or replaying the story in its archived form does not constitute a republication of the story.
Clarification:In an interview with KSL, Salt Lake County Councilman Joe Hatch blamed - among others - State Senator Howard Stephenson for his role in support of legislation that allowed the district to split.
Senator Stephenson, who is also head of the Utah Taxpayers Association, pointed out on his internet blog that while he voted FOR the legislation in 2006, he voted AGAINST the 2007 version of the bill that paved the way to the district split.
---
Update:
The Jordan School District board decided shortly after midnight to postpone the request for $19 million from taxpayers. Board members said they would make a final decision next week.
---
RIVERTON -- Taxes were the topic Tuesday night at a "Truth in Taxation" hearing at Riverton High School. Hundreds gathered to voice concerns about a new law requiring taxpayers throughout Salt Lake County to pay millions for the split of the Jordan School District.
Public addresses Jordan School District
The meeting started at 7 p.m. and was still going strong late into the night. The auditorium was packed, and more than 150 people signed up to address the Jordan School District board about a proposed 40 percent property tax increase in the school district.
Related Story
The majority of the $33 million shortfall comes from a reduction in state funding, the district split and an assessed valuation drop. The Jordan District imposed $8 million in employee layoffs and is using $6 million in reserve funds, but is asking that taxpayers make up the $19 million that's left. It's something a majority of people oppose.
"Such a huge increase in property taxes would be a hardship to families. Yet many of us, I believe, would be supportive of a moderate tax increase if it seems that our money was spent wisely and responsibly by our leaders," said South Jordan resident Wendy Brown.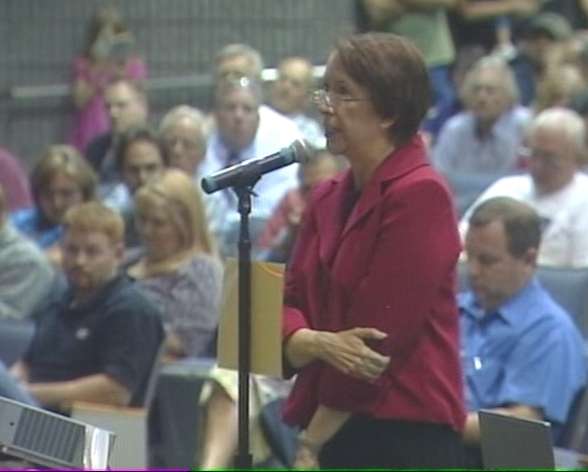 Carol Brown, who also lives in South Jordan, said, "I know that there are many ways the district can cut that have not been put on the table. First of all, the administration should be cut more; 30 percent of our tax dollars are going to administration."
Riverton resident Jerry Robinson said, "The economy is in the tank, and I just don't have the extra money to pay property tax when the value of my house goes down."
West Jordan resident Angela Crook told the board, "I don't want to pay that extra $350 on property taxes. I didn't get to vote for the Jordan District split, so I'm being taxed without representation."
The school board told the crowd that they've spent hundreds of hours working on the budget and have worked hard to make sure the tax increase is a last resort.
"What school board would want to come and raise someone's taxes 40 percent if you didn't need every amount?" Jordan School District spokeswoman Melinda Colton asked the crowd.
As of 10 p.m., the board had only heard from less than half of those signed up to address them. Still, the board is expected make a decision as to what that property tax increase will be once the meeting ends.
History of the split
Lawmakers in the GOP-controlled Utah Legislature first passed the law allowing the split, then passed the law that puts the cost of the split on the shoulders of taxpayers all over the county. In Salt Lake City, for instance, that hike will cost $57 for every $100,000 in home value.
KSL 5 News looked at the vote on the school funding equalization bill in 2008 and found a nearly party-line divide: 68 Republican lawmakers, all but a few, voted 'yes;' nearly all Democrats voted 'no.'
The Senate president, who didn't support the split, says he's been hearing from constituents and calls it a mistake
"The proponents said, 'We just wanted to have more local control of our district.' But in actuality, it's beginning to look like, yeah, it was a money grab. 'We don't want to pay as high of taxes, and therefore let's split us off. We have a good tax base, you guys worry about your own.' They weren't thinking about the kids, I'm convinced," Senate President Michael Waddoups said.
Council chairman blames tax increase on 2 lawmakers
Salt Lake County Council Chairman Joe Hatch, a Democrat, puts the blame for the split and the tax hikes squarely on Republican lawmakers from Sandy and Draper.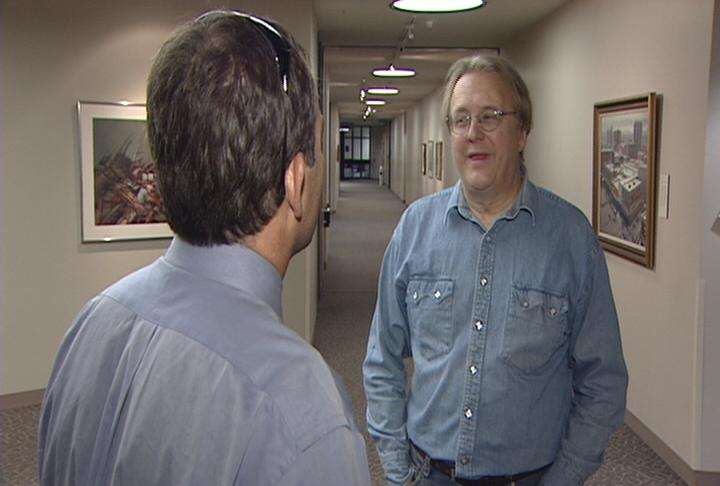 "I'd say it's more ultra-right wing Republicans, particularly former Speaker Curtis and Senator Howard Stephenson," Hatch said.
He says property owners in his district will have to pay for something they have nothing to do with.
"Everybody wants to tax somebody else for their own problems. If there's a large growth going on in the Jordan District, that's Jordan School District's issue. They should have to deal with it. It shouldn't be blamed on those areas that managed their growth better," Hatch said. "Those two (Curtis and Stephenson) forced this kind of legislation through the Legislature. People should be outraged by it."
KSL tried but was unable to reach the former speaker. Sen. Stephenson is out of town but tells us over the phone, quote: "Joe wasn't part of the legislative process. He's up in the night with some kind of conspiracy theory. Joe is the epitome of the notion that a little knowledge is a dangerous thing."
------
Story compiled with contributions from Courtney Orton and John Daley.
×
Related links
Related stories
Most recent Utah stories