Estimated read time: 2-3 minutes
This archived news story is available only for your personal, non-commercial use. Information in the story may be outdated or superseded by additional information. Reading or replaying the story in its archived form does not constitute a republication of the story.
PLEASANT GROVE -- It's been in the works for years, now the new North County Boulevard is open for traffic, and people are already taking what amounts to a very big shortcut.
This new road is just a little more than a mile long, but it is going to cut off two or three miles for many drivers who've had to take the long way to reach State Street.
Utah County commissioners and the mayors of nearby cities--such as Lindon, Pleasant Grove, American Fork, Highland and Cedar Hills--all see the importance of the new North County Boulevard. The road provides a direct route from the Interstate 15 interchange at Pleasant Grove, north to State Street in American Fork; it will shorten the drive from the freeway to American Fork hospital.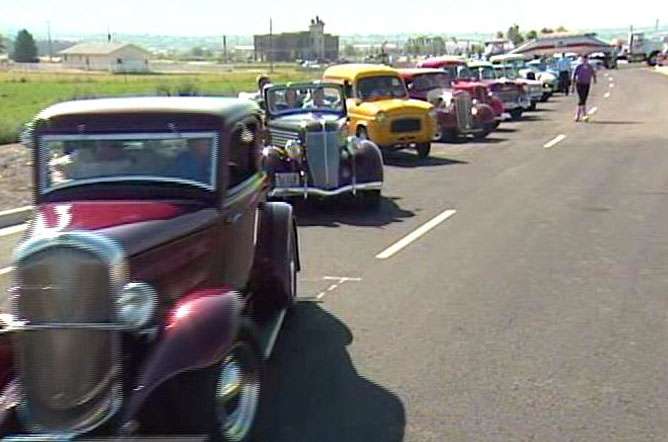 The new road will especially benefit people who live in Alpine, Highland and Cedar Hills and should shorten their commutes.
"It will be much safer. It's obviously prettier, and I would encourage all citizens, not only of my city of Cedar Hills, but all north county citizens to use it to relieve and remove traffic from other less-capable roads," said, Cedar Hills Mayor Michael McGee.
The first traffic on the new road was several dignitaries who rode in classic cars. In all, the project was about 10 years in the planning and building stages and required property to be acquired in what was mostly agricultural fields, yet highly-developable property.
The new boulevard is in the same area where ground was broken three years ago for a 12-story hotel and convention center, but that spot remains a field. The delay appears to be the direct result of the ongoing problem of getting financing for new projects.
In July of 2006, the announcement was made that the new Embassy Suits would be build in Pleasant Grove. A little more than a year later, plans were announced to make the hotel even bigger than originally planned, but those plans have not really left the drawing board.
The developer has put $6 million into the property for infrastructure, but the problem of getting enough financing for the project has kept it from construction.
KSL News asked Pleasant Grove's mayor for an update on the hotel's status.
"It's still coming. I am going to visit with the Developer, Mr. Hammons, on Tuesday of next week. Right now, the situation with banking, the financial problems nationwide, has really curbed the bank's abilities to fund new construction projects," said mayor Michael Daniels said.
When the hotel is built, it will benefit from the new road in the area near the Pleasant Grove interchange.
E-mail: spenrod@ksl.com
×
Related stories
Most recent Utah stories