Estimated read time: 2-3 minutes
This archived news story is available only for your personal, non-commercial use. Information in the story may be outdated or superseded by additional information. Reading or replaying the story in its archived form does not constitute a republication of the story.
LOGAN -- To the students and staff at Utah State University, Yasuko Brown is the pizza lady -- the secret, smiling force behind a boost in pizza sales at the student center.
Some say Brown has revolutionized pizza sales at USU, so we gave her a High 5.
When she started working at the Hub -- the campus food court -- a year ago, they were selling 50 to 60 pizzas a day. Now pizza sales are up to 100 a day. As we found out, customers get much more than just a piece of pizza. They get her signature greeting. "Hi! How are you? Would you like some pizza?" she asks with a smile.
---
If you've had a bad day, you just come down here and she makes your day better.
–Hanah Gillman, student
---
It's not hard to see why Yasuko is so popular at USU. She has an enthusiasm that is contagious.
One customer, Lynnette Harris, said, "As soon as you walk in and she says 'You like some pizza?' you feel like you have to apologize if you're not here for pizza."
More important than the impact she has on sales is the impact she has on students and staff.
Student Hanah Gillman said, "Most people come to the HUB to get food, but it's just an experience because if you've had a bad day, you take a bad test, you just come down here and she makes your day better."
"You come in, you make eye contact and you're obligated to get pizza because it's that good," she continued. "You might have your mind set on something else. But you never regret it because her customer service is just through the roof."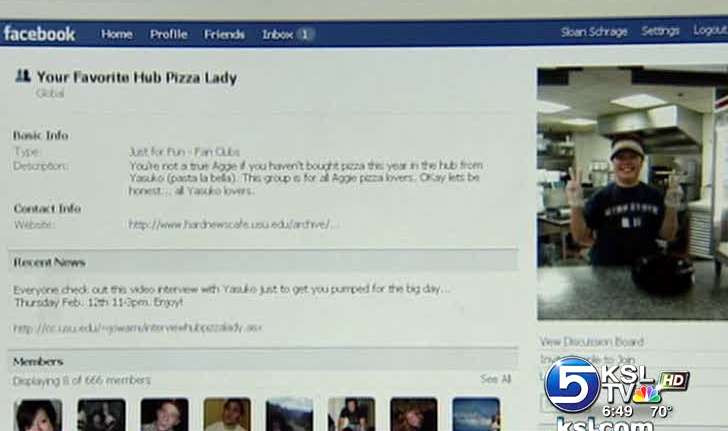 Mike Whitesides nominated Yasuko for a High 5. "If you're having a bad day, she's the one that you look to, to come into the Hub for a little 'umph' in your day," he said.
She has a growing fan club with nearly 400 fans on a Facebook page started by USU students.
Whitesides told her, "You're on Facebook, but we want to get you on Jay Leno or The Tonight Show next."
Related:
Yasuko pumps herself up at 4:30 every morning, doing a chant before going to work. She says she loves her job and sees her customers as her sons and daughters.
Yasuko said, "Working with this co-worker, it gives me young power. Young people, you know, motivates."
The motivation goes both ways.
"On behalf of everyone at Utah State, we just want to tell you how much we appreciate you and the outstanding job you do for us here," Whitesides told her. "You're an inspiration to all of us. Your personality and smile is just dynamic. When we walk into the HUB we all know that we're going to hear your voice. We just love it."
As part of our High 5, we're sending Yasuko Brown two tickets to see Cirque du Soleil at the E Center on Aug. 5.
E-mail: bwalker@ksl.com
×
Most recent Utah stories