Estimated read time: 2-3 minutes
This archived news story is available only for your personal, non-commercial use. Information in the story may be outdated or superseded by additional information. Reading or replaying the story in its archived form does not constitute a republication of the story.
SALT LAKE CITY -- Investigators are still trying to figure out what caused an equipment failure that created a power bump Tuesday night. The substation that created the inconvenience is located at 3000 South and 1500 West. Apparently a piece of equipment broke and sparked a fire, causing a temporary power flicker. Lights across the valley went out for a few seconds or dimmed for a short time frame.
Rocky Mountain Power says it's still looking into what caused the equipment failure. It says it's possible heavy electricity usage could have strained the system. It is also wondering why it affected so many people.
Rocky Mountain Power spokesman Jeff Hymas said, "The interesting thing is that this momentary outage was actually experienced not only by our customers, but customers from other municipal power companies in the valley as well."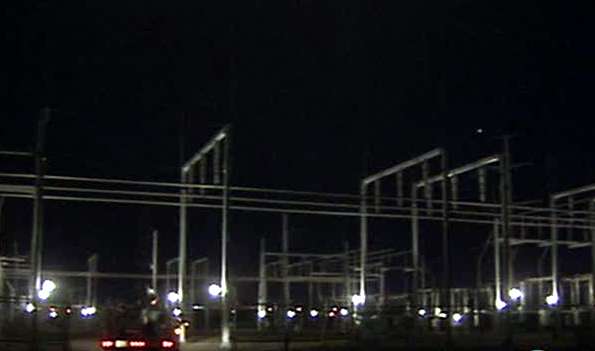 Hymas says the substation is connected to other substations. He also says Rocky Mountain's power grid connects and intersects with other lines, and could potentially affect the whole Wasatch Front. Tuesday night, people from Utah County all the way up to Weber and Box Elder counties were affected by the flicker.

**Brownout v. Blackout**![](http://media.bonnint.net/slc/1007/100717/10071793.jpg)

A **brownout** is a drop in voltage in an electrical power supply, typically causing lights to dim. A **blackout** refers to the total loss of power. Blackouts which result from or result in power stations tripping are difficult to recover from quickly.

Hymas says, "That's not typical. Usually an incident at one substation wouldn't have that widespread an effect. So we're investigating what caused the equipment failure and the fire, as well as why it affected so many customers."

Fortunately, the power went right back on. Hymas says that might be attributed to protective devices in place at these substations. Circuit breakers and relay systems are designed to activate during disturbances like these and keep outages as short as possible. We spoke to one customer who says it makes sense that heavy usage could've caused a bump.

Rocky Mountain Power customer Seth Ashton said, "I think we come home from work, and we turn everything on: our computers, our TVs going. We've got everything going. When I'm at work, I'm just using a few things.

Rocky Mountain reported some people had their power out for a sustained period, as opposed to just a quick flicker. It says it got all those customers power fully restored.

------

Story compiled with contributions from Nicole Gonzales and Marc Giauque.

×
Related stories
Most recent Utah stories