Estimated read time: 2-3 minutes
This archived news story is available only for your personal, non-commercial use. Information in the story may be outdated or superseded by additional information. Reading or replaying the story in its archived form does not constitute a republication of the story.
HYDE PARK - Family, friends, neighbors and complete strangers attended the funeral of a mother and her two children who died in a Logan landslide.
The bodies of 43-year-old Jacqueline Leavey, her 13-year-old son Victor Alanis and 12-year-old daughter Abbey Alanis were laid to rest Tuesday.
In the wake of the tragedy, family and friends tried to focus on the good times they had together. Catherine Roberts, a family friend said, "You talked to them every day, and they were a big part of your life."
As tough and as painful as it was for some people to come, they just couldn't imagine being anywhere else. "We thought a lot of them, and they were very special to us, so I think it's important to be here," said Roberts.
Roberts knew Jacqueline Leavey and her children well. They lived in the same Wendover, Utah apartment building before Leavey moved to Logan two months ago.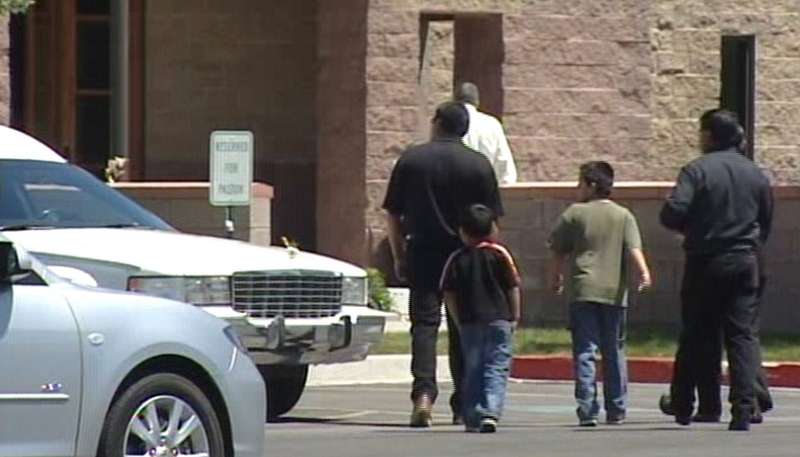 When she heard about the landslide two weekends ago and how a mother and her two children were missing, she just knew. "Just when they announced it, I kind of had a fear it might be them, and it was," she said.
Leavey and her two children were killed July 11, when a nearby canal burst and sent rocks and water through their house. It took searchers several days to find their bodies.
Now, those who knew them came to the St. Thomas Aquinas Church in Hyde Park to say goodbye, and remember the good times.
Imelda Akens, a family friend, said, "They were good kids. They were very high academically, and all the other kids loved them."
Explaining to children what happened and why it happened is the tough part. "You don't. It's impossible to answer a question like that. You just put it in the hands of God and say okay, we don't know what His plan is," said Father Clarence Sandoval with the St. Thomas Aquinas church.
If anything can be learned from this tragedy, it's how precious life is. "We don't know what will happen tomorrow," said Sandoval.
Family friends say Leavey was a single mother who moved to Cache County to try and give her children a better life.
E-mail: acabrero@ksl.com
×
Photos
Related stories
Most recent Utah stories