Estimated read time: 11-12 minutes
This archived news story is available only for your personal, non-commercial use. Information in the story may be outdated or superseded by additional information. Reading or replaying the story in its archived form does not constitute a republication of the story.
LAS VEGAS -- The rite of summer passage into fall is upon us. The annual Mountain West Conference Preseason Football meetings in Las Vegas brings all 9 coaches and 2 of each team's best players in to meet and discuss the upcoming 2009 season. Tuesday's big news: the release of the Media's preseason poll.
Preseason poll results
The Horned Frogs of TCU are the overwhelming choice to win the title, picking up 15 of a possible 24 first-place votes. BYU is predicted to place second, pulling in six first-place votes. The defending MWC champion Utes are picked to finish third, with three first-place votes.
"It's not a problem for us," said Utah's senior offensive lineman Zane Beadles, just voted to the preseason All-MWC Team. "I don't know if the Mountain West Conference poll's ever been right."
Utah Linebacker Stevenson Sylvester, one of only three unanimous picks on the All-MWC Team, said, "We were picked third last year too. It doesn't matter. People doubting us just like Alabama."
Cougars' All-MWC tight end Dennis Pitta understands why TCU's the pick.
"They're a very good football team returning a lot of guys who have experience. We knew they were going to be good going into this year. We're excited to play them. We get them at home, which is going to help," Pitta said.
The results are hardly a surprise. The three teams are the dominant vote-getters. Together, TCU, BYU and Utah went 34-5 last season, 21-3 in Mountain West play and have combined to win 8 of the 10 MWC football championships.
TCU returns four starters from a defensive unit that led the nation in rushing defense while ranking second in scoring defense in 2008. The Horned Frogs are led by all-MWC performers Jerry Hughes (DE), Jeremy Kerley (PR/KR), Rafael Priest (DB) and Marshall Newhouse (OT). Seven starters return on offense for TCU, which ranked among the top 25 nationally in scoring and rushing offense a year ago. The Frogs garnered 15 first-place votes and had a total of 207 points.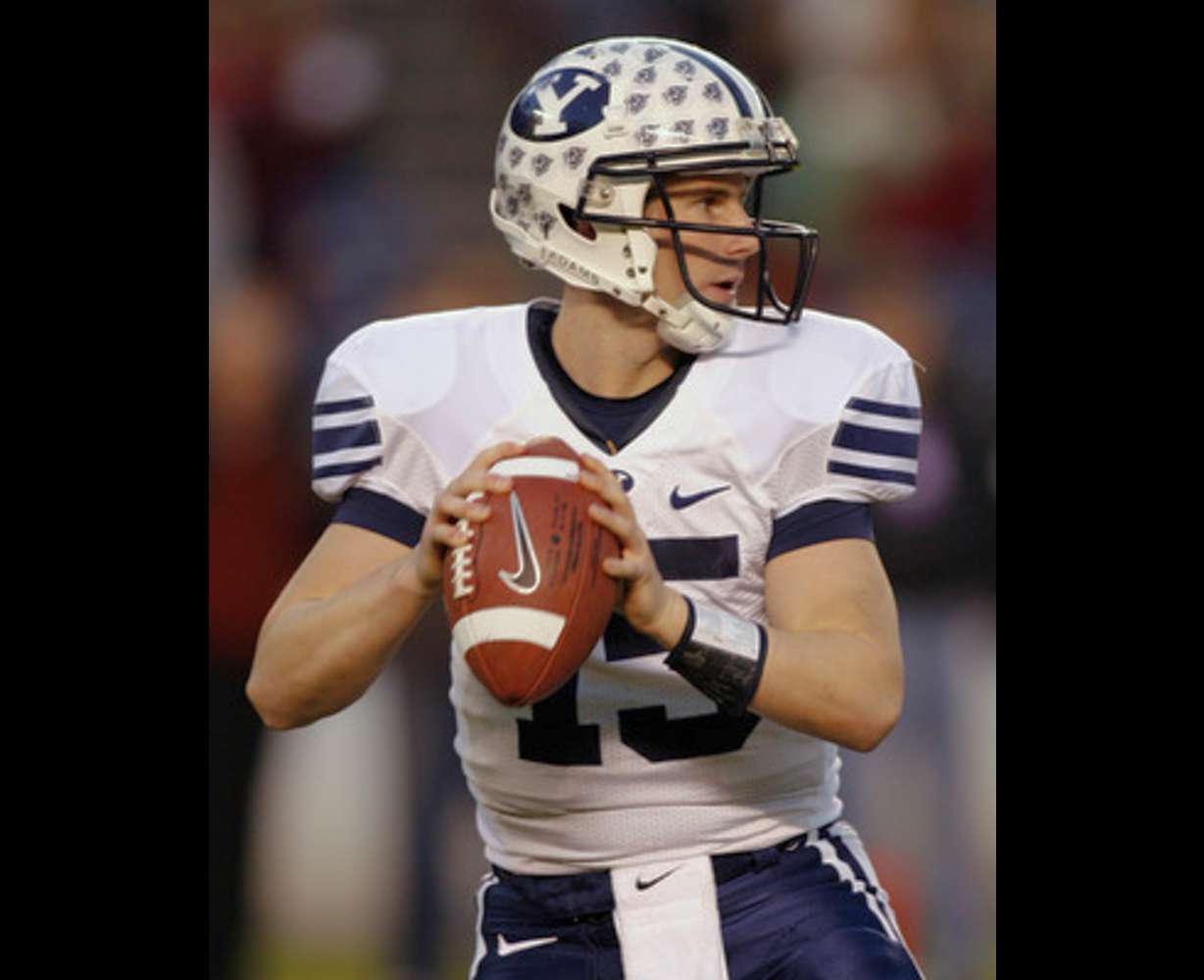 BYU was chosen second with 190 points and six first-place votes. The Cougars posted a third-place finish (6-2) in Conference play in 2008 and ended the season with a 10-3 mark overall. BYU returns four starters from an offensive unit that ranked among the top 20 nationally in scoring, pass and total offense last season. Eight starters also return on defense for the Cougars.
Defending MWC champion Utah was picked third with 179 points and three first-place votes after posting the nation's only undefeated record (13-0) last season en route to capturing its fourth MWC title (8-0). The Utes, who finished with top-5 rankings in both the final Associated Press (No. 2) and USA Today Coaches (No. 4) polls, enter the 2009 campaign with the nation's longest active overall and bowl win streaks at 14 and eight games, respectively. Utah returns four starters on offense and eight on defense.
Air Force was chosen fourth with 130 points, followed by UNLV (5th - 108 points), Colorado State (6th - 107 points), New Mexico (7th - 60 points), San Diego State (8th - 53 points) and Wyoming (9th - 46 points).
Individual honors
As for the individual honors, BYU's starting quarterback Max Hall is the media's preseason Offensive Player of the Year, TCU's Jerry Hughes is the Preseason Defensive Player of the Year, Horned Frog teammate Jeremy Kerley is the Preseason Special Teams Player of the Year.
Hall, a first-team all-MWC honoree in 2008, passed for league-highs of 3,957 yards and 35 touchdowns last fall, leading the Conference in both categories for the second straight season. His passing and total yardage (4,072) numbers ranked among the top 10 nationally while setting MWC records for a junior signal-caller.
Hughes, a consensus All-American and the MWC Defensive Player of the Year in 2008, was a first-team all-MWC selection a year ago after leading the nation with an MWC single-season record of 15 sacks. He also tied for the lead nationally with six forced fumbles.
Kerley, a first-team all-MWC selection as a kick returner in 2008, led the league in punt returns (25) and total punt return yardage (348) last season.
The 2009 preseason team is loaded with experience, featuring 19 players that were all-Conference selections in 2008, including six first-team honorees. Twenty-one seniors, three juniors and two sophomores comprise the 26-member squad.
BYU's All-MWC players are Max Hall, back to back 1,000 yard rusher Harvey Unga, tight end Dennis Pitta and kicker Mitch Payne.
Utah is well represented on the preseason All-MWC list as well. The list includes offensive lineman Zane Beadles, running back Matt Asiata, defensive lineman Koa Misi, linebacker Stevenson Sylvester and Robert Johnson.
Preparing for the upcoming season
Cougars open their season with the much-anticipated test against national runner-up Oklahoma in the Dallas Cowboys brand new $1.3 billion stadium on Saturday, Sept. 5.
Utah gets going two days earlier, Thursday, Sept. 3, hosting Utah State.
"You got a target on your chest" said National Coach of the Year Kyle Whittingham. "Being Sugar Bowl Champions as well as Mountain West Conference Champions does that. That's the position you want to be in. We've preached all off-season that it's harder to stay on top than to get to the top."
BYU Head Coach Bronco Mendenhall led his Cougars to back-to-back unbeaten Mountain West seasons, but last year's 10-3 record was not nearly good enough.
"I think they'll be hungry" Mendenhall said of this season's Cougars. "Last year there was quite a bit of pressure simply because they hadn't lost a conference game in two years, and with the thought of 'Where do you go from there?' So 10-3 is, in many programs, a record that would not produce maybe the urgency or the hunger. But for us, expectation's at BYU ,which mean to win every game at home, to win the state championship, to win the conference championship and to go to a bowl game, and a good bowl, and win. Anything less is not the success, and I think our players our hungrier, more united and more determined because of last year's disappointment."
**2009 Mountain West Conference Football Preseason Poll**
**Rk.**
**Team (first place votes)**
**Points**
1.
TCU (15)
207
2.
BYU (6)
190
3.
Utah (3)
179
4.
Air Force
130
5.
UNLV
108
6.
Colorado State
107
7.
New Mexico
60
8.
San Diego State
53
9.
Wyoming
46
**2009 Preseason All-Mountain West Football Team**
**Offense**
QB
Max Hall\*\*
Sr.
BYU
WR
Ryan Wolfe\*
Sr.
UNLV
WR
Rashaun Greer\*\*
Sr.
Colorado State
WR
Vincent Brown
Jr.
San Diego State
RB
Harvey Unga\*\*
Jr.
BYU
RB
Matt Asiata
Sr.
Utah
OL
Zane Beadles\*
Sr.
Utah
OL
Nick Charles\*\*
Sr.
Air Force
OL
Shelley Smith\*\*
Sr.
Colorado State
OL
Erik Cook\*\*
Sr.
New Mexico
OL
Marshall Newhouse\*\*
Sr.
TCU
TE
Dennis Pitta\*#
Sr.
BYU
***Note: Three wide receivers were selected due to a tie in the voting.***
**Defense**
DL
Jan Jorgensen\*
Sr.
BYU
DL
Jerry Hughes\*#
Sr.
TCU
DL
John Fletcher\*\*
Sr.
Wyoming
DL
Koa Misi\*\*
Sr.
Utah
LB
Daryl Washington
Sr.
TCU
LB
Jason Beauchamp\*\*
Sr.
UNLV
LB
Stevenson Sylvester\*\*#
Sr.
Utah
DB
Chris Thomas\*\*
Sr.
Air Force
DB
Rafael Priest\*\*
Sr.
TCU
DB
Nick Sanders
Sr.
TCU
DB
Robert Johnson
Sr.
Utah
**Specialists**
P
Anson Kelton
So.
TCU
PK
Mitch Payne
Jr.
BYU
Ret.
Jeremy Kerley\*
Jr.
TCU
**Offensive Player of the Year:** Max Hall, Sr., QB, BYU
**Defensive Player of the Year:** Jerry Hughes, Sr., DL, TCU
**Special Teams Player of the Year:** Jeremy Kerley, Jr., KR/PR, TCU
**Freshman of the Year:** Ed Wesley, RB, TCU
**\# - unanimous 2009 preseason selection. \* - member of the 2008 All-Mountain West Conference first-team. \*\* - member of the 2008 All-Mountain West Conference second-team.**
E-mail: tkirkland@ksl.com
×
Related stories
Most recent Utah stories