Estimated read time: 1-2 minutes
This archived news story is available only for your personal, non-commercial use. Information in the story may be outdated or superseded by additional information. Reading or replaying the story in its archived form does not constitute a republication of the story.
SALT LAKE CITY -- For the second consecutive weekend, protesters stood in front of the Main Street Plaza in Salt Lake City.
A mass-kissing protest drew a shouting match between gay activists and a group of members of the Church of Jesus Christ of Latter-day Saints Sunday
About 100 people gathered to stage a "kiss-in" in support of two gay men who were forced to leave the Church-owned plaza July 9 after security guards spotted them kissing and hugging.
Protester Hans Totterer said, "I am free to be who I am and I shouldn't be ashamed of it."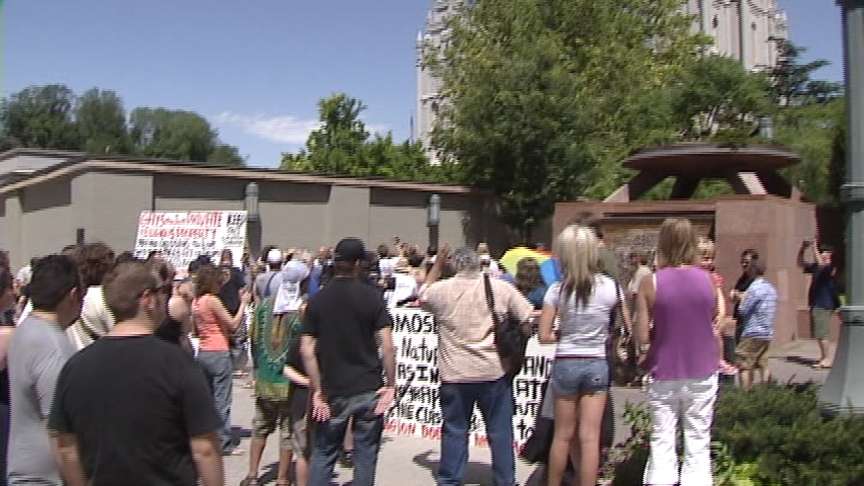 This time, demonstrators were greeted at the south entrance by a group of Church members carrying large signs that denounced homosexuality. Those gathered say they were there to support the Church and its rights as a property owner.
"This is nothing but a stage to persecute, intimidate and harass the Church because of Proposition 8," said Sandra Rodrigues, a member of the LDS Church. "They're doing this all around the country to bring down the nation and its God to elevate their cause."
Organizers staged the first "kiss-in" last Sunday, in the wake of the incident.
Police say no one was arrested or cited Sunday, despite a large group exchanging kisses by a reflecting pool at the plaza's center.
×
Related stories
Most recent Utah stories