Estimated read time: 3-4 minutes
This archived news story is available only for your personal, non-commercial use. Information in the story may be outdated or superseded by additional information. Reading or replaying the story in its archived form does not constitute a republication of the story.
SALT LAKE CITY -- A man is recovering from his injuries after he was hit by a TRAX train Tuesday night.
While incidents like this are uncommon, the Utah Transit Authority recognizes train-pedestrian accidents are beginning to happen more often.
"We're always very saddened any time somebody is injured. We want our system to be safe," said UTA spokesman Gerry Carpenter.
At 9:30 Tuesday night, UTA says a man in his 50s ran across the street and attempted to catch a northbound train near 450 S. Main Street.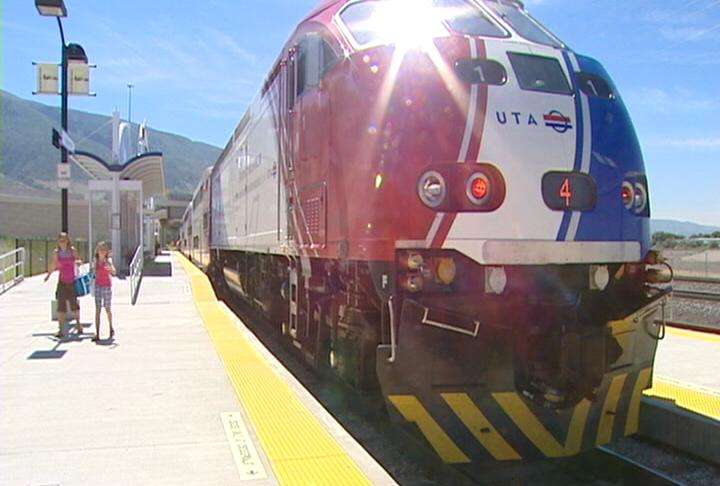 "He apparently was trying to get the doors to open, or trying to stop or something, and was knocked down by the train," Carpenter said.

He was rushed to the hospital and is expected to be OK, but he's lucky.

Last Friday a FrontRunner train hit a teenage girl in Farmington and sent her to the hospital in critical condition.

In March, a 19-year-old man died from his injuries he was hit by a TRAX train in Midvale.

**Rail crossing safety tips**

• **Always expect a train!** • **Cross the tracks only at designated locations.** Crossing tracks at any other place is illegal and puts you at risk of tripping or slipping on rails or ballast. • **Don't try to beat a train at a crossing.** Accurately determining the distance and speed of an approaching train is difficult if not impossible. • **Don't stand close to railroad tracks.** A train is at least three feet wider than the tracks on each side. • **Don't ever walk along tracks, over rail bridges or in tunnels.** There is often only enough clearance on bridges and tunnels to accommodate a train. • **Don't climb on, over, under or in between moving or stationary rail cars.** • **Never try to hop or jump aboard a moving train**; and don't try to cross the tracks between cars of a stopped train because it may start moving at any moment. *Federal Railroad Administration*

In all, there have been four pedestrian-UTA rail collisions already this year; there were three total in 2008. Still, the national numbers show Utah railways are safer than most states, with a total of four trespass injuries last year. In Texas, there were 51, according to the Federal Railroad Administration.

"If you make contact as a pedestrian with a train, you're going to get hurt," Carpenter said.

UTA says passengers might be getting too comfortable. TRAX has been running more than 10 years now; Frontrunner for a year and a half.

"You can never get too comfortable around trains. We want people to be safe and remember these are big vehicles. They can't stop on a dime," Carpenter said.

Tuesday night's accident is being investigated by Salt Lake City police.

UTA says it's always looking into the latest safety tools and hopes to continue educating the public about being cautious and alert near trains.

E-mail: wjohnson@ksl.com

×
Related links
Most recent Utah stories