Estimated read time: 2-3 minutes
This archived news story is available only for your personal, non-commercial use. Information in the story may be outdated or superseded by additional information. Reading or replaying the story in its archived form does not constitute a republication of the story.
LEHI -- Tense moments in Lehi Tuesday after police set up a perimeter looking for a suspect in a home-invasion robbery.
The all clear has been given, but there are a lot of worried neighbors. They saw dozens of police cars in the street and officers with weapons and K-9s looking for a man who tried to stab someone inside his home.
Around 2 p.m. a 23-year-old man reported to police that someone broke inside his home near 2400 North and 800 West. He said the man tried to stab him, so he grabbed a gun and fired a shot at the intruder and chased him away through the back door.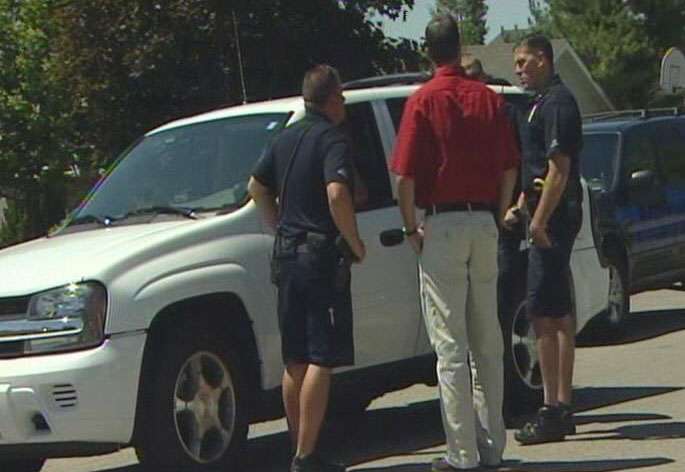 Police from Lehi, American Fork and Saratoga Springs, as well as Utah County sheriff's deputies, searched for the suspect for nearly an hour.
The victim's sister, Annie, told KSL, "What happened, what we've been told, is that someone tried to stop my brother. I guess my brother shot at him and missed and scared the guy off, and he ran away."
Greg Neer, with the Lehi Police Department, said, "We do not have a suspect in custody. We have a description of him. He's wearing ... he's described as wearing a black tank top with cammo shorts, some Nike running shoes and his hair was light brown, has a little bit spiky in the front."
Neighbors were obviously alarmed to be told by police to stay inside their homes, especially after hearing the suspect could be armed with a knife.
In the end, no suspect was found, and right now detectives are interviewing the victim at the police station to try and find out more information.
Police are still unsure if the suspect was hit, and at this point aren't giving any more information about what happened.
E-mail: spenrod@ksl.com
×
Most recent Utah stories