Estimated read time: 2-3 minutes
This archived news story is available only for your personal, non-commercial use. Information in the story may be outdated or superseded by additional information. Reading or replaying the story in its archived form does not constitute a republication of the story.
SALT LAKE CITY -- Of all the stuff you throw into your curbside recycling bin, a majority from the Wasatch Front ends up at Rocky Mountain Recycling. The South Salt Lake business expanded its operation, and Tuesday fired up some new state-of-the-art equipment.
Rocky Mountain Recycling processes more than 50,000 tons of recyclable materials each month. All kinds of paper, cardboard, plastics, aluminum and other metals.
The brand new, $7 million single-stream sort system takes all of the recyclables from one big pile, and sends them into the bins where they belong.
John Sasine, president of Rocky Mountain Recycling, says the upgrade was critical to keep up with the expanding recycling market.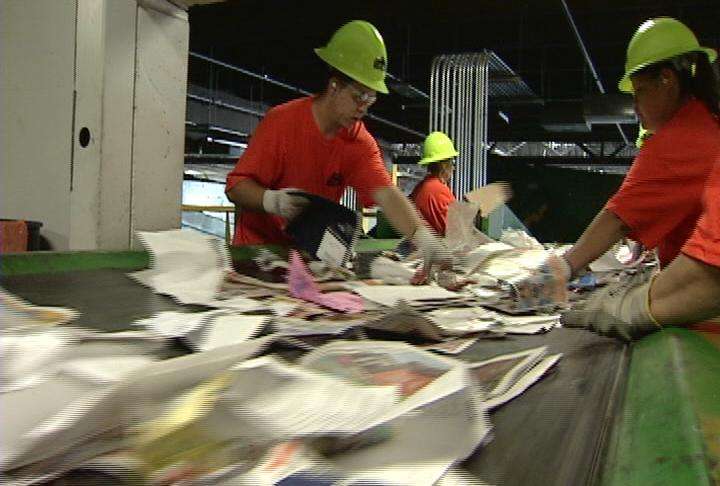 "This technology is 10 or 15 years better than the old system that we had," Sasine said.
Three-foot wide conveyor belts carry the pop bottles, beer cans, cardboard boxes and newspaper through a series of screens and sorters. Screens first pull the cardboard away; the conveyor separates different kinds of papers: shredded, newsprint and magazine.
Farther along the process, milk jugs are spotted by an optical lens, and blasted into a bin. Later, a magnet plucks metal cans from the stream.
It's efficient and effective for such a high volume of recyclables, but the company still needs people to sort the items the machine misses.
"They make sure there are no containers in with the paper and no paper in with the containers," Sasine said.
If the materials mix, Rocky Mountain Recycling cannot sell the finished bales on the market. "Contaminated" bales end up in the landfill because the paper producers and metal smelters can't use them.
"They have some really strict guidelines for what they can accept, because they have to turn it into a product that can be introduced back into manufacturing. If it's contaminated, it's unusable to them. That's why a machine like this is critical," Sasine said.
The owner says this expansion almost fell through before it even started. An out-of-state bank pulled the plug on the business loan last October, but First Utah Bank came through with the loan at a critical time.
In this economy, Sasine is very grateful that his local lender came through with the loan.
E-mail: jboal@ksl.com
×
Most recent Utah stories