Estimated read time: 2-3 minutes
This archived news story is available only for your personal, non-commercial use. Information in the story may be outdated or superseded by additional information. Reading or replaying the story in its archived form does not constitute a republication of the story.
SALT LAKE CITY -- There's books clubs, garden clubs, but have you heard of a card club? Turns out, cards and creativity have connected a group of Utah women for the last 12 years.
For crafter Susan Neal, a card group was the perfect fit.
"I had just moved to Utah a year prior to that. I really needed to get involved and meet some people and find my place, and it was just a great place to do that," Neal said.
That card group has been going strong for over a decade. The set-up is pretty simple: they meet once a month.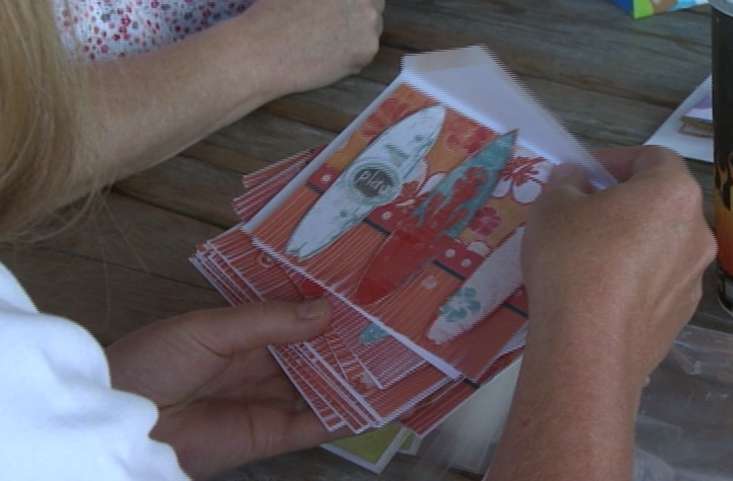 "We like meet in restaurants. Who wouldn't?" Neal said.
Each member makes twelve duplicates of one card design, and they all gather to eat and swap their cards.
In between swapping, there's a lot of laughter, oohing and ahhing. But more than just sharing cute cards, the women share a connection with each other.
"We've been through marriages, divorces, babies, grandparents, kids going through difficult times; the whole gamut of life is something we have experienced together, and so that really does draw you closer together and you just love 'em," Neal said.
Group member Heather Jensen said, "I love the chitchatting. I love the friends. I love the gabbing, the sharing of ideas."
"You do have to get creative, but that's part of the fun of it. And it's something that stays done. So much of what moms do gets undone so quickly: like dishes, laundry, housework. So, you feel a sense of accomplishment each month at something that stays done and other people appreciate," group member Brooks Wynn said.
Appreciation and involvement are both benefits that have brought these women together.
For tips on how to form your own card group, visit studio5.ksl.com.
E-mail: bwalker@ksl.com
×
Related links
Most recent Utah stories