Estimated read time: 4-5 minutes
This archived news story is available only for your personal, non-commercial use. Information in the story may be outdated or superseded by additional information. Reading or replaying the story in its archived form does not constitute a republication of the story.
SALT LAKE CITY -- If you plan on buying or selling a house, industry experts warn there's a new hidden fee out there that could cost you thousands of dollars; and not just you, but the person who eventually buys the house from you in the future.
It's no secret the housing industry is in crisis. Land developers and home builders are sitting with excess supply and little demand, but there is a way to make more money off of you.
We've uncovered hundreds of these documents filed on property throughout Salt Lake and Utah counties, most filed in the last year. Already, some are sounding the alarm.
"It wasn't passing the smell test," Salt Lake County Recorder Gary Ott said. "Is it legal? Yeah."
"We're unanimously opposed to these types of transfer fees," said Cort Ashton, president of the Utah Land and Title Association.
Transfer fees tacked on to subdivisions, condominiums, even single homes. Buyer beware: You could have these fees tied to your property.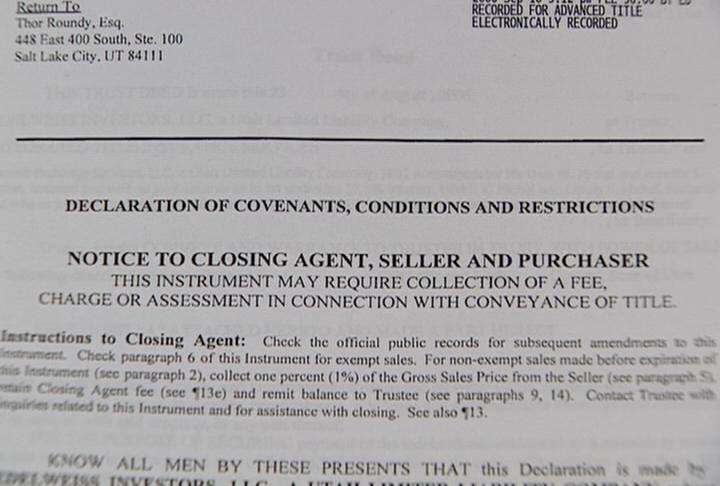 If you do, when you go to sell you will owe someone -- either the developer, Builder, or the most recent homeowner - 1 percent of your gross sale price.
"Is it legal? Yeah," said Satl Lake County Recorder Gary Ott. "If it's a $400,000 house, 1 percent makes a difference."
But that's not all, there's also a 99-year payout. KSL saw hundreds of documents filed on thousands of acres of property across the Wasatch Front: all span 99 years. That means not only will you owe 1 percent of the gross sale price, but so will the person you sell to and the next, and the next for 99 years.
We took what we found to State Rep. Curt Webb, who also owns a title company.
"There's no way. I was really surprised that the concept would even fly," Webb said.
But Webb agrees it has "flown" well. He argues those who buy today, 50 years, 75 years down the road are just paying more for a house, and developers and builders stand to make millions.
"There's something inequitable about this," Webb said.
But Salt Lake attorney David Steffensen disagrees.
"What the developer can do is say: 'I created value that will last for years. I will create an income stream that will last for years,'" Steffensen said.
Steffensen is an agent for Texas-based company Freehold Licensing. Freehold trademarked this concept.
"After all, it's just 1 percent," Steffensen said.
But others argue 1 percent could mean thousands, and many believe buyers don't even know about these fees.
"I think it is fair because these are recorded instruments. They are put in place -- in the front door, out the front door. A buyer is on notice that this is in place," Steffensen said.
We went knocking on doors to find out what homebuyers did or didn't know about transfer fees.
"We had never heard of it until you knocked on the door," recent homebuyer Dan Keiser said.
Rebecca Dupaix, who also recently bought her home, said, "It's ridiculous, I think. They should at least tell us what's going on."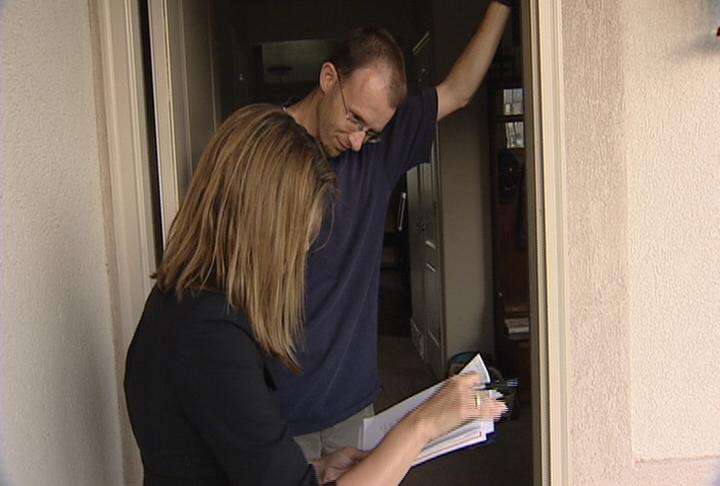 There's an interesting twist to the story: These homeowners have had transfer fees filed against their Silver Lake property in Utah County, but the developer told us these buyers didn't know about the transfer fees because he removed them.
DAI wouldn't talk to us on camera but said the transfer fees were taken off because, at this point, they're not sure how buyers will react.
"There is going to be somebody really, really mad when they have to pay that," Ott said.
Mad because many believe buyers who aren't lucky enough to get the fees removed simply aren't being told up front about the fees they will eventually have to pay.
"Joe Buyer isn't used to looking and reading the CC&Rs. They're something that most people don't pay that much attention to some of those details at the time of closing," Ashton said.
CC&Rs are Covenants, Conditions and Restrictions. If you're buying property, read carefully.
"There should be better disclosure. Like you said, screaming disclosure is a good word for it. Otherwise, it will slip by," Webb said.
Two years ago, California's legislature made sure there was better disclosure to the buyer. Recently, Texas, Missouri and Florida have limited the use of private transfer fees. Here in Utah, we fully expect this issue to come to a head in the next legislative session.
Bottom line: If you plan on buying a home, insist that your title company provide you with a copy of all the Covenants, Conditions and Restrictions tied to the house. Comb through those documents. If you see a transfer fee on the home you want to buy, either negotiate to buy the house for less, demand that the transfer fee be removed or walk away.
E-mail: lprichard@ksl.com
×
Related links
Most recent Utah stories