Estimated read time: 2-3 minutes
This archived news story is available only for your personal, non-commercial use. Information in the story may be outdated or superseded by additional information. Reading or replaying the story in its archived form does not constitute a republication of the story.
WEST JORDAN -- Firefighters had to escape a fast-moving, three-alarm fire at a restaurant in West Jordan overnight.
Crews arrived just after midnight to find smoke billowing from the eaves of Jim's Family Restaurant at 7609 S. Redwood Rd., but the blaze quickly escalated to a second alarm, then a third.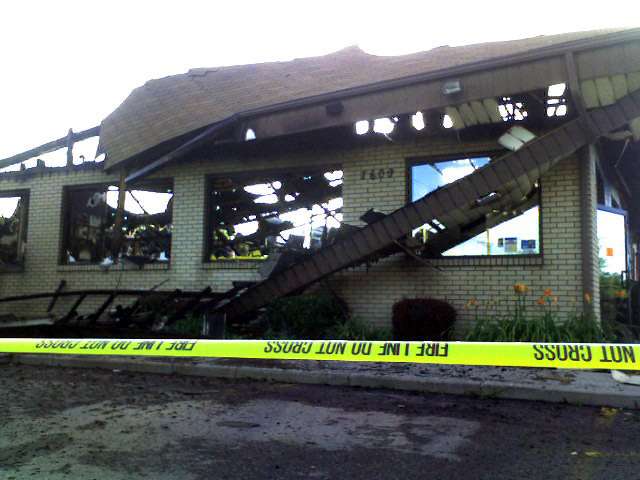 West Jordan Fire Department Battalion Chief Reed Scharman says two groups of firefighters were inside when part of the roof collapsed. Big beams and other debris fell on six of the firefighters.
"A couple of them were knocked down," Scharman said. "They were able to, with the assistance of the others who were inside that didn't get hit by any of the ceiling coming down, get oriented as to the direction they needed to go."
Scharman says the firefighters actually called out a "May Day," meaning they needed help. They were able to free themselves and escape before crews outside had to come in after them. No firefighters were injured.
Investigators are unclear about the cause of the fire, although they have no evidence yet to indicate it was suspicious. It did start after workers had gone home.
At one point, 74 firefighters were involved in the fight. Damage is estimated at $1.4 to $1.5 million.
The morning after
Workers arrived Thursday morning and couldn't believe the charred-out wreck they saw.
"It doesn't even look like our restaurant," said Vicki Fox.
About 40 workers are employed at the restaurant. Several say this is devastating.
"Is anybody out there hiring?" Tina Peterson said with a nervous laugh. "Does somebody need about 40 employees to help 'em out? Because we're a family, you know. We all go together."
Fox said, "This is my only income, yes, and several people are the same way. None of us know what we're going to do. We don't have jobs, and we can't believe how bad it is."
Customers of the restaurant stopped by to see the damage. Many of them were disappointed at what they saw.
Customer Jean Fawley said, "I really feel sick. That's why I came over. I had to tell them how much I hope they rebuild."
"It's kind of the old family-style restaurant," Scharman said. "I think its catered to a lot of different kinds of people over the years. You've got the regular coffee drinkers in the morning who are showing up now with just looks of 'shock-and-awe.'"
Employees of the restaurant tell us the owner plans to rebuild.
In the meantime, they say they are hoping to find jobs at another Jim's restaurant, or else somewhere else.
------
Story compiled with contributions from Andrew Adams and Shara Park.
×
Photos
Most recent Utah stories