Estimated read time: 2-3 minutes
This archived news story is available only for your personal, non-commercial use. Information in the story may be outdated or superseded by additional information. Reading or replaying the story in its archived form does not constitute a republication of the story.
SALT LAKE CITY -- The popular HBO series "Big Love" is under fire again. The University of Utah has threatened legal action against the drama for improperly using the school's logo and letterhead without permission.
---
We want to make it clear they are not to use (university logos) without our permission.
–- Coralie Alder, U of U spokeswoman
---
A cease-and-desist letter was sent to HBO on Tuesday after the U learned that its letterhead and block U logo had been used in an episode of the cable TV show back on March 22.
"We take great pride in the University of Utah logos and marks. We use them when we are endorsing programs and events or supporting programs and events," university spokeswoman Coralie Alder told KSL NewsRadio.
"In this particular case we have not endorsed the use of our logos with the 'Big Love' program, and we want to make it clear they are not to use them without our permission," she said.
Collegiate Images, the university's agent in such affairs, fired off the letter to Big Love's production company, Alder said. Beyond complaining about the use of its logo, the U seeks to have its image scrubbed from future repeats of the episode.
"We have not endorsed the program or any content in any of the programs that have aired," Alder said. "We want to make sure the public is not confused that we have done that, because we have not."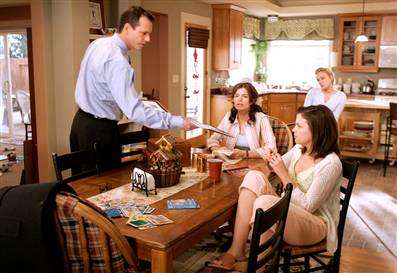 In a statement sent to The Associated Press by e-mail Wednesday, HBO said it was "confident that nothing in our program violates anyone's rights and we will be responding in due course."
"Big Love" is a series about a suburban Utah polygamist juggling his three wives and three families. The series, starring Bill Paxton, Jeanne Tripplehorn, Chloe Sevigny and Ginnifer Goodwin, has been critically acclaimed but also controversial.
Recently, the show drew some protests and complaints when it featured an LDS temple ceremony in a season finale episode.
The Church of Jesus Christ of Latter-day Saints has criticized the show for its portrayal of Mormons. The show's characters often feature members of the LDS Church and those who are part of polygamous groups that have broken away from the faith.
------
Story compiled with contributions from Ben Winslow , Sam Penrod and the Associated Press.
×
Related stories
Most recent Utah stories