Estimated read time: 2-3 minutes
This archived news story is available only for your personal, non-commercial use. Information in the story may be outdated or superseded by additional information. Reading or replaying the story in its archived form does not constitute a republication of the story.
TAYLORSVILLE -- Police are still looking for a man who robbed a Taylorsville bank Monday morning, and they say he is possibly armed. They say he walked into Hercules Credit Union and handed a teller a note demanding money.
Taylorsville's K-9 Unit rushed to the scene at 4700 South and 3100 West. They set up a containment area around the credit union, hoping to locate the robber before he got too far. Police say he's a threat to the community because he may be armed but is probably more concerned with getting out of town.
"Our thoughts are, though, he just wants to get as far away as he can from here; but you know, with that, you just never know," said Taylorsville police Lt. Rosie Rivera.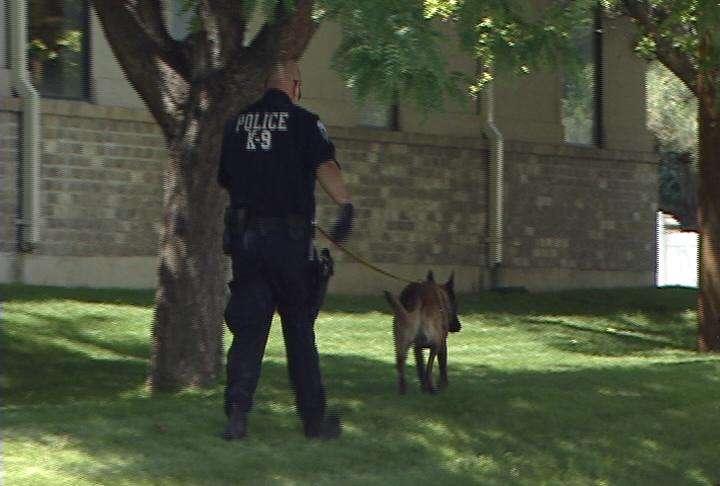 Rivera says the man entered the building at 11:10 Monday morning then walked straight to a teller and demanded money in writing.
"He did use a note. There was no weapon displayed, but the note did say he had a weapon," Rivera said.
The suspect got away with an undisclosed amount of money; but there is surveillance video of him, and several people witnessed the event.
"There were several people in the bank. We also had somebody that was walking into the bank as the suspect was walking out of the bank," Rivera said.
Nobody was injured during the robbery; the robber was only inside for a few minutes.
Witnesses say the man was about 6 feet tall, wearing a brown and white checkered shirt, khaki pants and a black CSI ball cap. He also had a beard. Nobody saw if he had a get-away car.
"We were able to get some information on what direction he went, but right now we don't know if he made it to a vehicle or if he's still on foot," Rivera said.
The FBI is heading the surveillance video aspect of the investigation. Agents say it's good video, but the credit union cannot duplicate it for a few days.
E-mail: ngonzales@ksl.com
×
Most recent Utah stories