Estimated read time: 2-3 minutes
This archived news story is available only for your personal, non-commercial use. Information in the story may be outdated or superseded by additional information. Reading or replaying the story in its archived form does not constitute a republication of the story.
By Jed BoalSOUTH SALT LAKE -- Across the country, fewer people will travel this Fourth of July weekend because of the economy, but AAA says that's not the case in the Mountain West region. The reason? AAA points out, compared to the rest of the country, job losses in our region just are not as severe.
People want to get out of town and have a good time, but many are scaling back. We ran into Suzanne Hill of Preston, Idaho, and her kids shopping at Recreation Outlet in South Salt Lake. They're hunting for a new tent for Fourth of July camping. They plan on plenty of fun without traveling too far, or stressing family finances.
Preston said, "We kind of wanted to do a camper, but we thought, we'll just shoot for a tent this year. But, we like camping, so that works."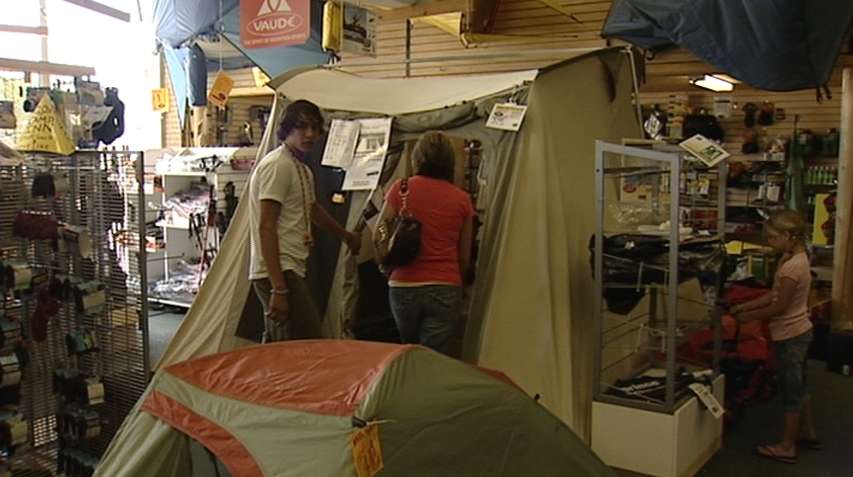 Since that's cheaper than most vacations, Recreation Outlet in South Salt Lake has seen a boost in business. "To keep your sanity and state of mind, most people do want to get out of the city," says Store Manager Matt Coleman.
Gas prices are rising again, but they're still more than a buck a gallon cheaper than a year ago. According to AAA surveys, 2 percent fewer Americans plan to travel this holiday weekend than last year.
But in the Mountain West Region, 2.5 million people will travel 50 miles or more from home, a 1.2 percent increase. "Part of it is that our unemployment numbers have been lower than the rest of the country," says Rolayne Fairclough of AAA. "Maybe the recession hasn't hit us as hard as it has the rest of the country."
**4th of July Travel** - Nationwide: -1.9% - Mountain West region: +1.2%
Summer Travel
Air travel: +9.7%
Airfares: -16%
Mid-range lodging: -12%
-AAA

But for many, the economy has affected the scale of our plans. Salt Lake resident David Murrell is headed down to Capitol Reef National Park for a parade, rather than more expensive travel plans.

Murrell said, "We normally take a longer European vacation, but this year we're staying here."

If you feel financially fit, airfares are down 16 percent; so airline travel is up 10 percent. And when you get there, mid-range lodging will cost you 12 percent less this year.

Fairclough says, "People can be really savvy travelers and get some really good deals and maybe go a little further than they thought they could." And that should be the case through the summer, if you're looking past the Fourth of July. As long as demand is down, we should find deals for travel.

E-mail: jboal@ksl.com

×
Related links
Most recent Utah stories