Estimated read time: 2-3 minutes
This archived news story is available only for your personal, non-commercial use. Information in the story may be outdated or superseded by additional information. Reading or replaying the story in its archived form does not constitute a republication of the story.
SALT LAKE CITY -- Leaders of The Church of Jesus Christ of Latter-day Saints dedicated the Church's new History Library in downtown Salt Lake City Saturday. The Church calls the new library a meeting place between the past and the future.
After more than 15 years in the planning stages and nearly three years of construction, the LDS Church officially opened its new Church History Library.
Elder Marlin K. Jensen, LDS Church Historian, said, "It will protect the Church's priceless historical collections, books, pamphlets, periodicals, journals, manuscripts, records and photographs against fire, theft and the forces of nature."
The library is 237,000-square feet. Inside the library, there are are 50 miles of shelving and several climate controlled vaults to help preserve historical items.
Presiding Bishop H. David Burton explained, "There happens to be three sections of vaults where the temperature will be maintained at minus 4 degrees and other storage areas where the vaults will be controlled meticulously at 55 degrees with appropriate humidity."
Leaders say they envision the library as becoming a place where people will find strength from the faith of those of the past.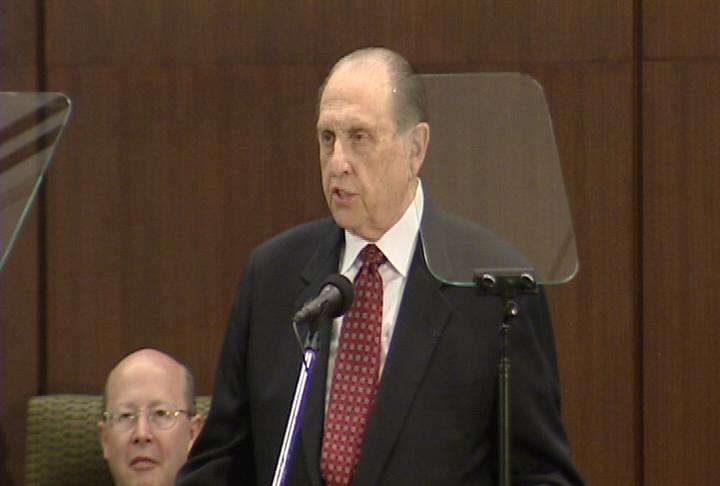 Elder Russell M. Nelson, a member of the Quorum of the Twelve Apostles of The Church of Jesus Christ of Latter-day Saints, said, "It is a unique resource. It will bless the lives of generations yet unborn. Here, history, discovery and testimony will converge for the benefit of all."
Lorene Pollard traveled from Missouri for Saturday's dedication. She is the great-great-grand-daughter of John Whitmer, the Church's first historian in the 1830s, and her family has made several donations to the library. She said, "Just to think that the things my family has given are going to be stored here for eternity; it is just wonderful."
It was a moment of history for President Thomas S. Monson, as he spoke from the same pulpit where he stood as a bishop of a ward in Salt Lake City in the early 1950s. President Monson said, "The Church today is as committed as it ever was to preserving its history and making it available to scholars and to the public."
The new LDS Church History Library officially opens on Monday and with it comes unprecedented access to the 179 years of the Church's history.
E-mail: spenrod@ksl.com
×
Most recent Utah stories