Estimated read time: 2-3 minutes
This archived news story is available only for your personal, non-commercial use. Information in the story may be outdated or superseded by additional information. Reading or replaying the story in its archived form does not constitute a republication of the story.
Ashley Hayes ReportingThe website Dads Against Drug Dealers.com is new. The goal of the site is to put communities' most prominent drug dealers in jail with help from the public.
Two dads from Utah County created the website after their children overdosed on heroin and died. They told us about their plan last month. Today their plan is in action and people are responding.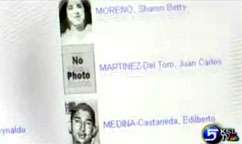 Dads against drug dealers.com is a real website, with real criminals, and real bounties for arrests. It's receiving national attention.
And with that, tips are coming in about dealers from across the country, like Kentucky, Tennessee, and New York. The site includes roughly one hundred pictures of dealers from the the FBI's most wanted list.
We first sat down with Lance Merrill in October. His teenage daughter Janie had died from a heroin overdose just the month before.
Merrill's partner, Terrie Petrie, also lost his son to heroin. Both fathers said their children's dealers aggressively pursued their kids after they tried to quit drugs.
The fathers want to get the word out about the drug problems in Utah County and put more dealers in jail.
Terrie Petrie, Son Overdosed on Heroin: "I strongly believe the secrets that we're keeping in our communities and in our families in regard to this kill. It's time to talk about this open and publicly."
Lance Merrill, creator "Dads Against Drug Dealers.com: "It's a huge problem in our community and it's kept quiet. No one wants to talk about it. And there are thousands, literally thousands of people suffering from this disease."
Merrill says he receives about five to six tips a day. But there is one problem: The jails aren't willingly releasing the mugshots.
A representative with the jails says they use discretion in who they release mugshots to, that they have the right to deny requests based on security and safety reasons.
Merrill says it has been somewhat difficult to get law enforcement to take their tips seriously.
The men say they realize it's just the beginning and will continue working to get these drug dealers off the streets.
×
Related links
Most recent Utah stories