This archived news story is available only for your personal, non-commercial use. Information in the story may be outdated or superseded by additional information. Reading or replaying the story in its archived form does not constitute a republication of the story.
DRAPER -- If you pass counterfeit money intentionally, you'll wind up in big trouble. But what happens when you get a counterfeit bill from a bank? One Draper man now knows, and he isn't happy about it.
Arjen Jonkhart doesn't have a criminal record, but he sure feels like he does. Last Friday, he withdrew $4,500 from a Zions Bank branch in Sandy, all in hundred dollar bills.
Jonkhart says the teller put the money in a sealed envelope. He then went to a Wells Fargo bank branch a few blocks away to deposit the money in his father's account. That is until the teller told him in that sealed envelope he had a fake hundred dollar bill.
"I was very surprised. You don't expect a bank to first take in a hundred dollar bill and not notice it is a fake, and then hand it right back out to the next customer and it's still fake," Jonkhart said.
How to identify counterfeit money

•
Look and Feel
: U.S. paper money is printed on special paper that's 75% cotton and 25% linen giving it a distinct stiffness. Red and blue fibers are also embedded in the paper. A high-quality printing process called "intaglio" leaves ink on top of the paper, giving the money a distinctive texture and creates sharp, clear lines.
•
Color shifting ink
: Bank notes bigger than the $5 use color-shifting ink to print the denomination in the lower-right-hand corner. The colors will shift (copper-to-green or green-to-black) when looking head-on, then from an angle.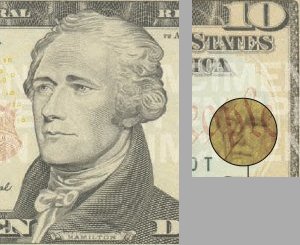 •
Watermark
: All bills bigger than a $2 now have a watermark. For the $10, $20, $50, and $100, the image, seen when held up to the light, matches the portrait. The same applies to the old $5, but the new $5 has a big numeral 5. The watermark is part of the paper and is visible from the rear of the note as well.

•

Security Thread

: All bills bigger than $2 have a security thread running vertically through them. Like the watermark, you hold the bill up to the light to see it. The thread has text with the bill's denomination and an image that is unique to that denomination. The different denominations have the threads in different places.

Wells Fargo kept the fake bill; Jonkhart went back to the Zions Bank branch but says they didn't help him. "They chose to completely deny their involvement in it," he said.

Of course, it bothers Jonkhart that he would get a counterfeit bill from a bank, but what worries him is that once he passed the bill to another bank, that bank is then required to fill out a form with his name on it that goes to the United States Secret Service.

"I am a foreigner. I'm a naturalized citizen, and in this day and age you always have to worry about where you're registered and who has records on what," Jonkhart said.

Jonkhart is from the Netherlands and is hoping somewhere down the line, for whatever reason, this doesn't come back on him. "Call me paranoid, but I don't like to be registered. I'd like to live my life cleanly, and I don't want to be registered anywhere for anything," he said.

Zions Bank told us its tellers are trained to spot fake bills but wouldn't comment on its security procedures or how one might have sailed through its system then back out. After a call from KSL, Jonkhart told us the bank called him to let him know a new one hundred dollar bill is ready for him to pick up.

E-mail: acabrero@ksl.com

×
Related Links