Estimated read time: 2-3 minutes
This archived news story is available only for your personal, non-commercial use. Information in the story may be outdated or superseded by additional information. Reading or replaying the story in its archived form does not constitute a republication of the story.
If you think you have an interesting "Today's Woman" topic, you can contact Candice Madsen at cmadsen@ksl.com. SALT LAKE CITY -- Like it or not, how you dress can play a key role in helping you land a good job. But for women on limited incomes, looking the part is a huge obstacle.
Kayleen Simmons, executive director of People Helping People, said, "You need to have the right tools to compete, and one of the things that is critical is how you look.
There were more power suits than usual at KeyBank's recent women's business forum; that's because the price of admission was a gently worn suit.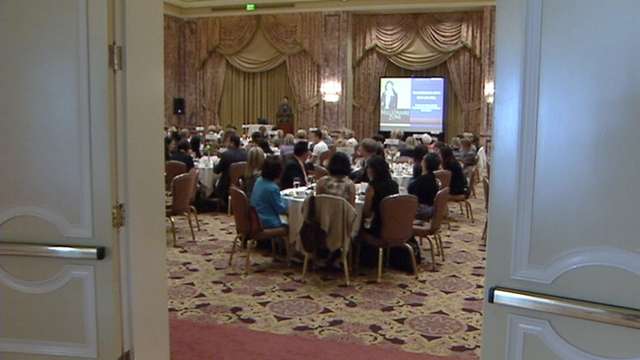 Senior V.P. of KeyBank Sheila Camarella said, "One of the things we are really excited about is to partner with nonprofit organizations who are committed to helping women in the business place."
All the clothes that were donated ended up at the Junior League of Salt Lake City's Clothing Boutique at 526 E. 300 South in Salt Lake City. Women are referred, and they can choose seven outfits a year for free.
Volunteer Director for Women Helping Women Janeal Ford said, "We are fairly particular about the clothing we put in here. We want to make sure that the women who are served can access professional clothing."
These clothes make a big difference to the women who shop at the boutique.
"It makes me feel very womanly to be able to come in here," said shopper Brenda Carlson. "I found new clothes. I found great clothes. So it's a wonderful place."
Carlson started coming when her husband became ill and she needed to find employment. She said, "This was a God-send for me. I was able to come here and find the clothes that I needed to go to my job interview, which provided me landing the job."
Joyce Iturriza is looking for a new outfit for her first day on a new job. She's currently living in a domestic abuse shelter. She said, "I couldn't do it without the junior league. There's no way I could."
Racks of old, but nice clothing give women a new start. So if there are a few items sitting unused in your closet consider giving them a new home. The Junior League of Salt Lake is grateful for all donations. But organizers say they really appreciate it when the clothing donated matches the time of season. So check your closets for summer items. Also, they are trying to expand their storage and would appreciate financial contributions to help with that, as well.
For more information, CLICK HERE.
×
Most recent Utah stories