Estimated read time: 2-3 minutes
This archived news story is available only for your personal, non-commercial use. Information in the story may be outdated or superseded by additional information. Reading or replaying the story in its archived form does not constitute a republication of the story.
NORTH SALT LAKE -- Two accidents on Interstate15 Saturday killed one man, sent several other people to the hospital, and shut parts of the freeway for about three hours.
The accidents happened near 2300 North, in an area where the Utah Department of Transportation recently began construction.
Two separate crashes
The wrecks started at 11:30 a.m. when a southbound tow truck crashed near 2300 North.
"The driver apparently looked down momentarily," said Lt. Mark Zesiger of the Utah Highway Patrol. "When he looked up, he was coming into a continuator, where the construction starts to lane shift."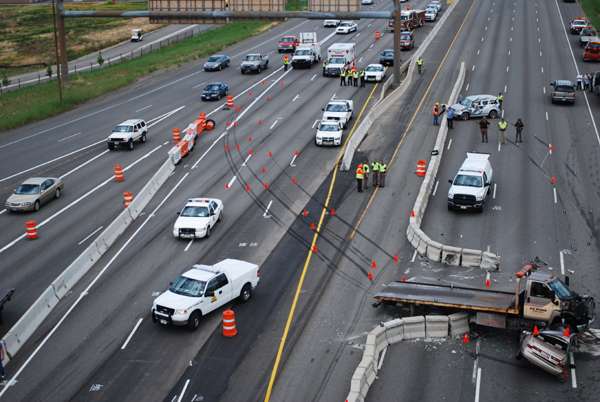 The driver over-corrected, slamming into the movable construction barrier. A photo provided by UHP (right) shows his path into the northbound lanes.
"As it came up onto the barrier, it hit the Honda SUV about the height of the driver," Zesiger explained. The driver of the SUV, identified as 57-year-old Michael Carver from Bountiful, was killed.
The tow truck also hit a pickup truck. The two people inside were not seriously injured.
The tow truck landed on top of a Toyota Camry. The 22-year-old driver of that car suffered serious injuries but was able to climb out the back of his car. "I was very surprised that he crawled out of that vehicle," Zesiger said. The man is expected to be released from the hospital Sunday.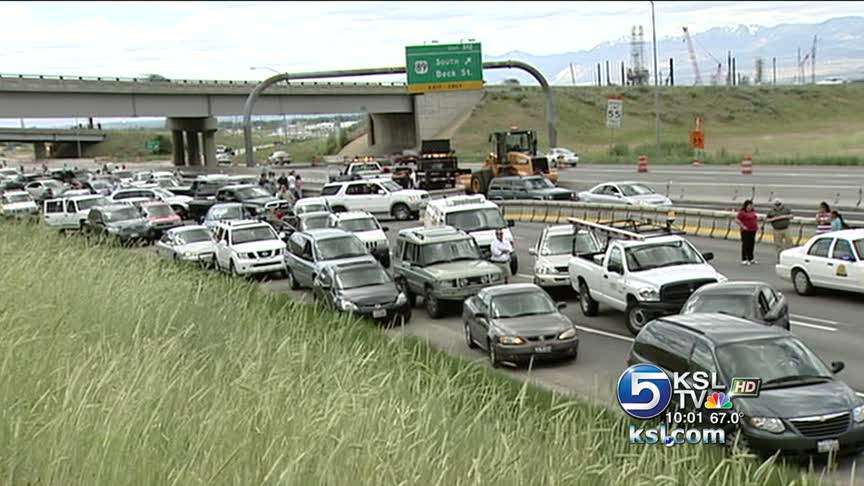 The tow truck driver is in good condition.
UHP says traffic slowed to look at the accident. About 20 minutes later, a southbound motorcyclist tried to stop for the backup around 2600 North. His brakes locked up, and he and his passenger were thrown from the bike.
"Both helmets had cracks in them and both people were flown by air (to the hospital)," Zesiger said. They were in serious and critical conditions.
Safety reminder for construction areas
The accidents happened along the same four-mile stretch of construction zone where two other accidents snarled traffic for hours Friday. Now officials are reminding drivers to pay attention.
UDOT's Adan Carrillo said, "People are just not used to traveling through this area as it's configured now. They're not paying attention to the signs. They're driving too fast."
UDOT will review the construction set up in the area but doesn't think anything is wrong with it as it is.
E-mail: sdallof@ksl.com
×
Photos
Related links
Related stories
Most recent Utah stories