Estimated read time: 2-3 minutes
This archived news story is available only for your personal, non-commercial use. Information in the story may be outdated or superseded by additional information. Reading or replaying the story in its archived form does not constitute a republication of the story.
SALT LAKE CITY -- After following hundreds of multiple sclerosis patients for more than two years, physicians say an elegant but very simple drug is dramatically changing the outcome of their disease.
At the Rocky Mountain Multiple Sclerosis Clinic neurologist John Foley checks Heidi Adams for coordination and movement. She comes in once a month for an infusion of an agent called TYSABRI.
Dr. John Foley, division chief of neurology at LDS Hospital, said, "This is the first time we've really been able to gather data of actual improvement, where people are getting better."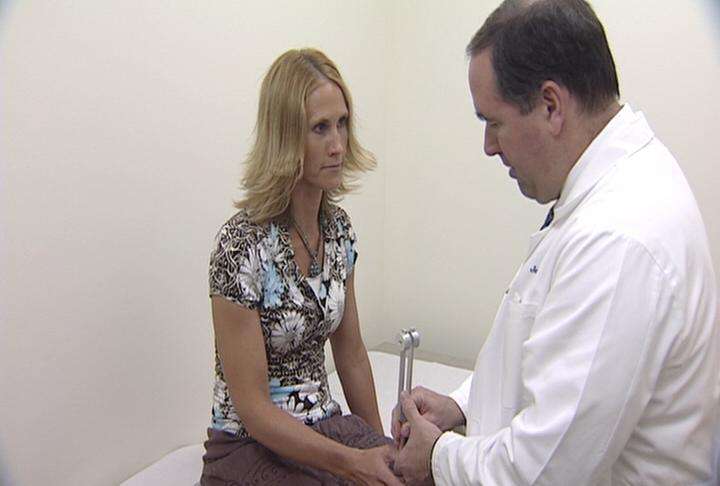 During clinical trials, physicians had hoped the monoclonal antibody would simply stabilize MS, minimizing relapses, but expectations apparently fell short of what it really can do.
"Short of being able to actually cure this disease, which I think is still fairly a long way into the future, the next best thing is to be able to put it into sort of suspended animation," Foley said.
Heidi was rapidly going downhill. With vertigo, she was spinning and falling. She was stiff with spasms in the back and legs and was ready to go on disability, but not anymore.
Now, after 37 months of infusions, Heidi is walking in a park, and you wouldn't even know she has MS.
Little dark spots where certain white blood cells at one time attacked and destroyed the sheaths around her nerves are in the past. The damage, for now, has ended.
Heidi said, "This year, I've done three half marathons, and I'm able to run four to six days a week and exercise normally, so that's really been fantastic."
Dr. Foley has close to 300 Utah MS patients on TYSABRI. Not all are doing as well as Heidi, but many are. He says other agents on the heels of this drug may hold even more promise.
TYSABRI works by keeping those white blood cells that attack nerve sheaths from entering the brain or spinal cord. The agent does not kill cells, and it is not considered an immunosuppressant drug.
E-mail: eyeates@ksl.com
×
Most recent Utah stories