Estimated read time: 2-3 minutes
This archived news story is available only for your personal, non-commercial use. Information in the story may be outdated or superseded by additional information. Reading or replaying the story in its archived form does not constitute a republication of the story.
SALT LAKE CITY -- Prescription drug overdoses kill more people in Utah each year than car crashes do. But for the first time in more than 10 years, the number of overdose deaths by legal drugs is down almost 13 percent.
The dip in prescription drug overdose deaths is great news, but it still doesn't take away the fact that more than 200 people died last year. No one knows that better than Rod Gardner. "It's way too many still," he said.
He lost a loved one to a prescription overdose in 2000, and he himself became addicted to pain pills almost 10 years ago, though he's been clean now for six years.
"If we save one or two or three or five or 10 people a year by saying, 'Hey, be careful.' Then I think that's worth it," Gardner said.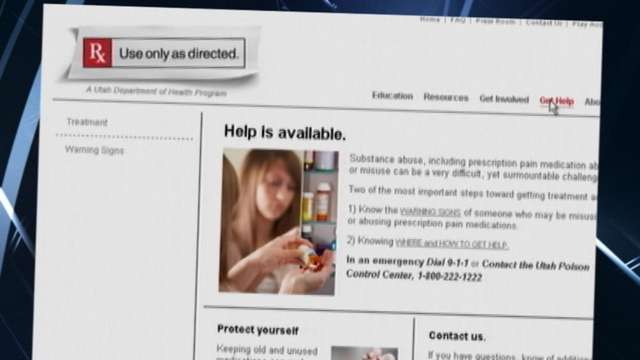 He agrees with public health officials that campaigns like the Use Only as Directed effort contributed to the decrease.
Erin Johnson, with the Utah Department of Health, said, "We'd like to think that people got that message, that they received the message and they're changing their habits."
Here's a look at the numbers: In 2007, 317 people died in non-suicidal prescription drug overdoses. In 2008, that number dropped by 40 to 277, but there's a catch.
"We educate on prescriptions and people don't use those, but maybe they switch to illicit drugs instead," Johnson said.
In fact, there were 27 more illicit drug overdose deaths in 2008. Overdose deaths where both illicit and non-illicit drugs are present rose just slightly: 62 in 2007, compared to 67 in 2008.
"It deserves more investigation and deserves some attention to see if really we're just transferring the problem from one court to the other or if we're really going to be able to solve the problem and reduce deaths overall," Johnson said.
Health department officials know there's still a lot of work to do, but they're getting help. A number of organizations are part of a new group called the Pharmaceutical Drug Crime Project that will work to raise awareness about both abuse and misuse of prescription drugs.
E-mail: corton@ksl.com
×
Most recent Utah stories