Estimated read time: 4-5 minutes
This archived news story is available only for your personal, non-commercial use. Information in the story may be outdated or superseded by additional information. Reading or replaying the story in its archived form does not constitute a republication of the story.
Sandra Yi and Tonya Papanikolas reporting Investigators say greed drove a Layton couple to violate a public trust at the expense of school children and taxpayers.
Brett Tolman/United States Attorney for Utah: "It is a particularly offensive case."
The couple is accused of bilking the Davis School District out of more than four million dollars. They now face some serious federal charges.
Authorities unsealed a 47-count federal indictment today. In it are details of a scheme run over 20 years, right in the district offices.
The Rosses face a slew of charges, including money laundering and theft from a state agency receiving federal funds.
Susan Ross directed federal programs for the Davis School District, while her husband was in charge of getting grant money from the U.S. Department of Education. Both retired last year.
Each year, the district received more than 2 million dollars of federal grant money, including money for disadvantaged students.
Brett Tolman/United States Attorney for Utah: "They have committed crimes that have deprived the state of valuable resources."
Susan's job at the District included ordering books for Title One tutoring programs designed to help disadvantaged kids. But the district says the books were actually spiral-bound stacks of unauthorized color copies.
Bryan Bowles, Davis School District Superintendent: "They were barely photo-copied and bound with a binder you could have done at a local copy shop."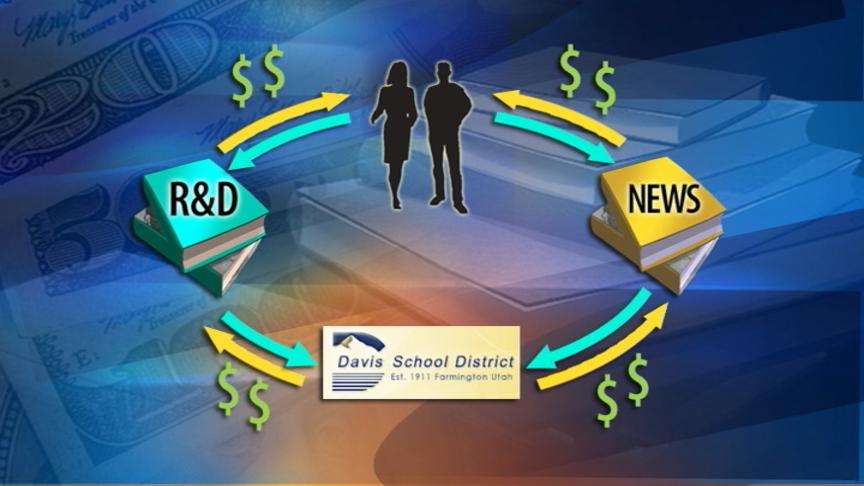 Court papers reveal how the scheme worked.
It says the Rosses cooked up two companies to act as money launderers. They got the district to buy unauthorized copies of copywrited books at inflated prices through those companies. The couple routed purchases through Research and Development Consultants, or R&D. They used Notable Education Writing Services, or NEWS, to collect the proceeds and that money for their personal benefit.
Tim Fuhrman/ FBI Special Agent in Charge: "Lining their own pockets with the proceeds of their ill-gotten gains. Approximately 4.5-million dollars in the last five years alone is staggering."
R&D charged as much as seven times the list prices for the same books sold by other publishers, and some books were only bound stacks of color copies.
An internal audit last year caught what was happening. The district says the Rosses were very careful. Susan Ross had a $3,000 dollar limit to buy books.
Bryan Bowles/ Davis District Superintendent: "She would buy under the limit, over and over and over again. So even in the internal audit, there were no red flags that went up."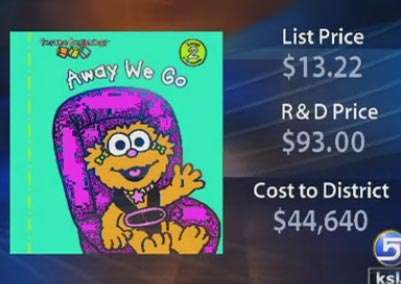 For example, the indictment says Ross and others made unauthorized copies of the book "Away We Go." The publisher's list price for the book was $13.22. However, the company she was tied to, charged the Davis School District $93 per copy. In all, it cost the district over $44,000.
Susan Ross: "Why didn't they get a better price on some of the individual books if they felt like they could get a better price? I was not intentionally overcharging the school district for anything."
Susan Ross admits she made money off the deal, but says she was doing the work and the district got something out of it.
Susan Ross: "They got the materials - and they didn't come for free."
And she states the books came with comprehension and tutor guides that may not have been listed in the prices.
Susan Ross: No, we haven't stolen any money."
The district disagrees.
Bryan Bowles: "We do not stand for people who steal from children."
Authorities say the couple used the money to fund a lavish lifestyle, which included vacations, homes and cars.
Bryan Bowles/ Davis District Superintendent: "Absolutely, there was a loss. That means programs, opportunities, potentials for children were gone."
The indictment seeks to seize assets from the Rosses, including a 2001 Jeep Grand Cherokee, a 2006 Acura MDX, $240,000 paid to a home builder, a bank account with $381,000, and $24,000 in college savings accounts.
No one answered the door, at the Layton home of Susan and John Ross today. So, we tracked them down at their attorney's office.
Susan and John Ross say their tax returns will prove they did nothing wrong. They say they did not launder money from the Davis School District.
Susan Ross: "We've done nothing but help."
The couple is ordered to appear in federal court Monday. If convicted, they face 5 to 20 years in prison.
Susan Ross' secretary, Stella Smith, has also been charged with mail fraud.
This is an ongoing investigation.
This case has led the FBI to set up a public corruption tip line.
The number is 1-866-50-BRIBE, or 1-866-502-7423.
The tip line covers the three states served by the Salt Lake City FBI field office-- that's Utah, Idaho and Montana.
If you have reason to believe someone holding a public office or serving in a position of public service has betrayed that trust, that's the number to call. Callers are encouraged to provide contact information for follow-up, but anonymous tips are welcome.
(The Associated Press contributed to this story)
×
Most recent Utah stories