Estimated read time: 2-3 minutes
This archived news story is available only for your personal, non-commercial use. Information in the story may be outdated or superseded by additional information. Reading or replaying the story in its archived form does not constitute a republication of the story.
WEST JORDAN -- A man was shot and killed by police following an overnight chase in Salt Lake County.
The chase started at the Family Motor Sports store at 3650 West and 9800 south. A South Jordan police officer spotted an ongoing burglary and tried to stop the man.
West Jordan police Sgt. Drew Sanders said, "The officer that originally came into contact felt that there was possibly a burglary involved, and that's why he originally tried to stop the suspect. As it turns out, he'd committed several burglaries in that same complex."
Instead of stopping, the man took off, running into officers' cars along the way to West Jordan.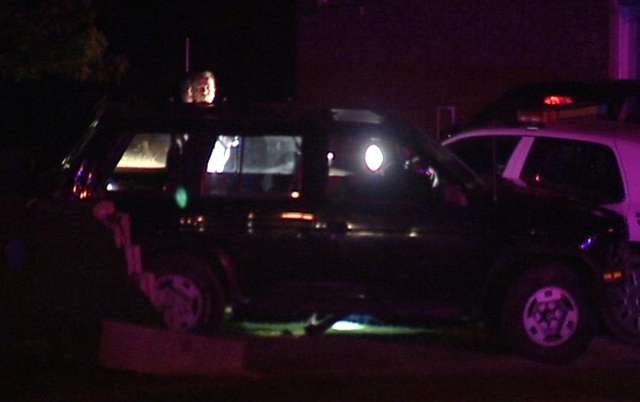 "I could hear the sirens across town and as it went on, I could hear more and more sirens added to the chase. And listening to it, could tell it was getting closer and closer," said West Jordan resident Wade Dawson.
South Jordan police officers followed the driver into a West Jordan neighborhood near 2408 W. Marion Dr. (about 7800 South).
"I got up out of bed and looked out the window just in time to see the first car flying by, and there was a police officer right on his tail. And I thought, 'Where does he expect he is going?'" neighbor Catherine Shuman said.
The driver didn't have anywhere to go, and when police blocked him in, he once again started to use his car as a weapon.
"We heard crash, crunch, pop, pop, pop," Dawson said.
Neighbor Neal Godfrey said, "At first I heard the noise, the crash, then I heard the pop, pop, two or three pop shots."
The driver had rammed his black SUV into several police cars just seconds before one of the officers shot him.
"It appears that he continued to ram the officers' car to get away. At that point the officer opened fire and took his life," Sanders said.
He says the South Jordan officer who fired the fatal shots felt that his life was in danger and that the only option was to use force. Neighbors who listened in say those final moments were definitely scary.
"We don't see this kind of thing here, we just don't. It's a very safe neighborhood, we don't expect this," Shuman said.
Investigators say they have identified the suspect, though they are not releasing his name to the media yet.
Were told at this point there are still two investigations underway, one into the officer-involved shooting and the other into the initial crime.
------
This story compiled with contributions from Nicole Gonzales, Shara Park, Marc Giauque and Andrew Adams.
×
Most recent Utah stories