Estimated read time: 6-7 minutes
This archived news story is available only for your personal, non-commercial use. Information in the story may be outdated or superseded by additional information. Reading or replaying the story in its archived form does not constitute a republication of the story.
SALT LAKE CITY -- The California state Supreme Court ruled Tuesday that Proposition 8, which amends the state's constitution to ban gay marriage, is legal.
While gay activists were hoping it would be overturned, they got a small victory in the fact that the estimated 18,000 same-sex marriages previously performed in California will still be recognized by the state.
Utah gay rights advocates disappointed
In Salt Lake Tuesday evening, hundreds gathered at the State Capitol and vowed to keep up the fight for gay marriage. They told their stories and expressed hope for equal rights.
"The struggle may be long and hard, but it will be won," a protester told the crowd.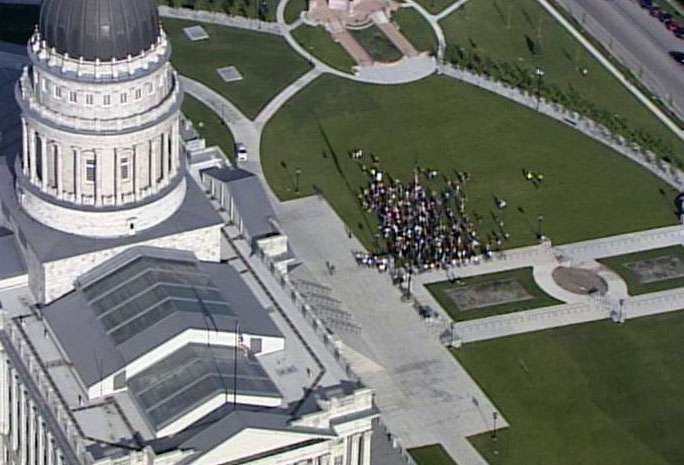 The group also promised to be united and become more visual and vocal. "We are planning on taking action here in Utah, that this is the beginning, we hope, of talking to people about equality, about marriage, about why it is we feel the way we do," said Nate Bassett, with Utahns for Marriage Equality.

Gay marriage advocates say they're not surprised at the court's ruling, but they are disappointed.

"It's a painful bump in the road, but it is just a bump in the road. And as we look forward, I encourage people here in Utah tonight to show that we stand in solidarity with our brothers and sisters in California," said Marina Gomberg, development director at the Utah Pride Center.

Gomberg and other gay rights advocates say they believe, with other states legalizing gay marriage, time is on their side. But in the meantime, they say they'll focus on trying to change people's minds.

"History seems to side with equality and compassion, and especially younger generations are so understanding and compassionate about issues of sexual orientation, gender expression, gender identity," Gomberg said.

Michael Mueller with Utahns for Marriage Equality said, "It's disappointing. It's a hollow victory is what it is. The 18,000 marriages that were legal at the time were upheld, but it's very disappointing because the whole idea of marriage equality is that everyone becomes equal at the same time."

But Mueller hasn't given up hope yet either. "One of my personal heroes is Abraham Lincoln, and one of his quotes is that you need to change people's hearts before you change their minds. And that is the kind of campaign we're going to run," he said.

**Proposition 8 Timeline**

• **May 15, 2008**- The California Supreme Court rules it is unconstitutional to deny gay couples the right to wed. • **Nov. 4, 2008**- Proposition 8 passes banning same-sex marriage in California. The first of many rallies held protesting the passage of Prop 8. • **Nov. 15, 2008**- Hundreds of thousands of people in cities throughout the U.S. rally against Prop 8 in a unified national protest. • **Nov, 19, 2008**- The California Supreme Court accepts three lawsuits challenging Prop 8, but denies requests to stay its enforcement. • **March 5, 2009**- The California Supreme Court hears oral arguments. • **May 26, 2009**- The California Supreme Court upholds Prop 8, but allows the estimated 18,000 gay couples who tied the knot before the law took effect to stay wed.

Meanwhile, Brandy Balken and her partner say Tuesday's ruling is a somber celebration for them. They had been together for seven years when the opportunity came to wed in California, so they went. According to the ruling, their marriage is still intact, but many others won't have that same privilege. "It's kind of sad to be on the receiving end of the privilege, knowing that others are not going to have access to it," Balken said.

In Utah, the gay rights issue has been a heated one, with Gov. Jon Huntsman getting criticism from some conservatives when he said he supported civil unions for gay couples.

This legislative session, lawmakers turned down a series of measures called the Common Ground Initiative, aimed a expanding gay rights in Utah.

LDS Church, members react to court ruling

The Church of Jesus Christ of Latter-day Saints was heavily involved in California in the campaign to pass Proposition 8.

"Vote Yes on Prop. 8" was a California coalition. Latter-day Saints in that state raised money and joined forces to help it pass.

Because directives came from Church leaders in Utah, more than 1,000 protesters circled the Church Administration Building and Salt Lake Temple last November, and Latter-day Saint temples in other cities as well.

In a statement sent to KSL, a spokesman says the Church welcomes Tuesday's ruling. The statement reads, in part: "The Church of Jesus Christ of Latter-day Saints recognizes the deeply held feelings on both sides, but strongly affirms its belief that marriage should be between a man and a woman."

The Church statement says the institution of marriage has "profound implications for our society" that range from what children are taught in schools, to free expression of religion. [CLICK HERE to read the entire statement from the Church]

Meanwhile, members of The Church of Jesus Christ of Latter-day Saints here in Salt Lake City are offering mixed reactions to the ruling. Many who spoke with KSL outside Temple Square say they not only support the proposition itself, but they're happy that the California court upheld voters' rights.

"I think the voters made a decision, and so I think if they don't stand what the voters want, then why vote?" said Don Verbica.

But others, like Megan Butler, disagree. "It's not my thing," she said. "But if everybody else wants to do it, who am I to say that they can't?"

Other churches react to court ruling

The California Catholic Bishops applaud the Supreme Court validation of Prop 8. Its statement says, in part: "We are strongly committed to protecting the dignity and worth of every human person. We endorse the intent of law to provide equal protection for all. However, such purpose does not have to trump the natural and traditional definition of marriage between a man and a woman. The law has found other ways to regulate civil unions."

"Standing Together," a coalition of Evangelical churches in Utah, also supported Proposition 8 through partnership with California churches.

"Evangelical Christians felt, in partnership with many faith-based communities -- the Catholic community, the LDS community -- that this effort of the people to come together, to voice their concern ... and they did that," said Rev. Gregory Johnson, with Standing Together.

Johnson says he knows same-sex marriage proponents will try again in California, and that is their right.

Prop 8 fight not over yet

People on both sides say the situation in California is now a legal mess.

"Thankfully, it's a California mess and not a Utah mess, and we hope it doesn't spill over into Utah," said Stan Rasmussen, of the Sutherland Institute.

Both sides are gearing for this to return to the ballot again within the next few years.

------

This story compiled with contributions from Carole Mikita, John Daley, Marc Giauque and Andrew Adams.

×
Most recent Utah stories