Estimated read time: 2-3 minutes
This archived news story is available only for your personal, non-commercial use. Information in the story may be outdated or superseded by additional information. Reading or replaying the story in its archived form does not constitute a republication of the story.
SALT LAKE CITY -- Salt Lake City's mayor is well aware of growing opposition to developing Library Square downtown. A new public safety building complex hinges on voter approval of a $125 million bond.
Over the last couple weeks, the mayor and his staff quickly found out -- and keep getting reminded -- there are very strong feelings about the open space on Library Square.
Outcry started right after Salt Lake City Mayor Ralph Becker announced Library Square as one of two places to build a new public safety complex. The other is across 300 East.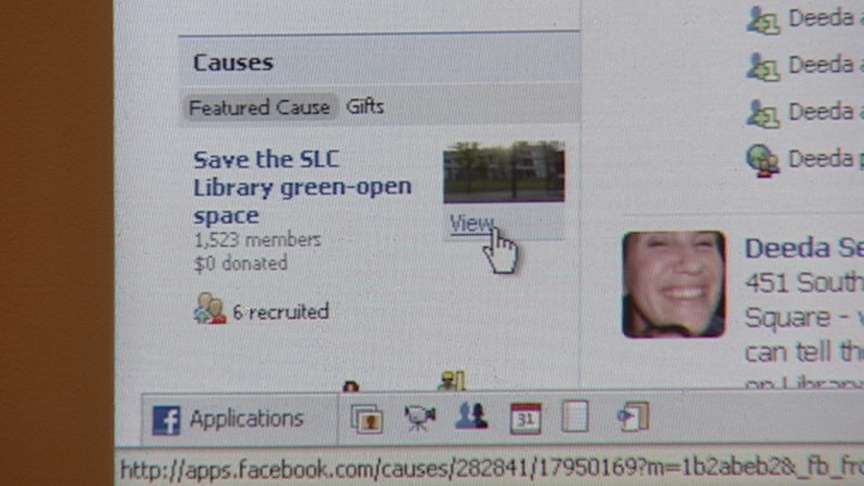 Even though he outlined both options and promised there would be "no net loss of open space," opposition has mushroomed.
"As long as Library Square is on the table, we're going to have a very difficult time with the really-needed conversation about where to put the police headquarters," said Deeda Seed, former Salt Lake City administrator and council member.
Seed started a Facebook page called "Save SLC Library Green Open Space," and more than 1,500 members have joined.
"The best case scenario here is if Library Square is taken off the table and we start talking about locating the public safety complex across the street or somewhere else," seed said.
"We're obviously centered on this idea of a civic campus and the location of the 300 East corridor," Becker said. "But we're going to continue to explore these two options and quickly make a recommendation to the council about what we think should happen."
Mayor Becker said he expected more public input and was open to suggestions.
There are two opportunities for the public to weigh in right away:
Design Fair
Sat. May 30
Salt Lake City Main Library
210 E. 400 South
Main Auditorium
9 a.m. to 2 p.m.
Formal Public Hearing
Monday, June 1
Salt Lake City Police Department Pioneer Precinct
1040 W. 700 South
7 p.m.
E-mail: rpiatt@ksl.com
×
Related stories
Most recent Utah stories