Estimated read time: 2-3 minutes
This archived news story is available only for your personal, non-commercial use. Information in the story may be outdated or superseded by additional information. Reading or replaying the story in its archived form does not constitute a republication of the story.
SALT LAKE CITY -- The Utah Highway Patrol troopers are putting together a big DUI blitz and seat belt blitz for this Memorial Day weekend.
Utah Highway Patrol Trooper Jeremy Horne sees it almost every day: A driver not wearing a seat belt. He says every time, the driver has an excuse. "Typically, it's I forgot, or I was just going over here, a short distance, are the typical responses I hear," he said. "(I) haven't heard a real good one yet."
Trooper Horne has only been with the Utah Highway Patrol for a year, but already he's seen people who have died and weren't wearing a seat belt.
"We've seen it time and time again, where if they were wearing their seat belt, most likely they would've walked away or been injured," he said.
No one knows that better than Karen Christensen. She said, "My son died as a result of one car rollover on Feb. 21, 2005. He did not have his seat belt buckled and was ejected from the car."
Christensen was invited by the Utah Highway Patrol to be part of their announcement regarding this Memorial Day weekend's seat belt enforcement blitz.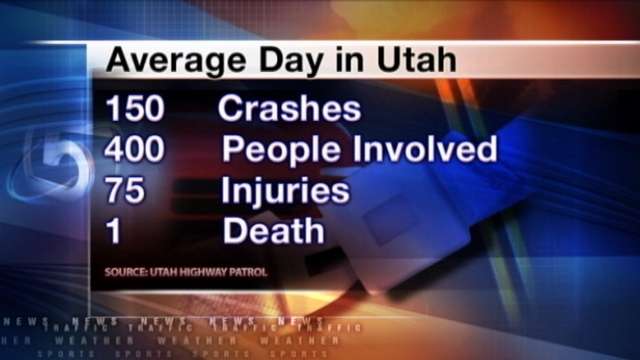 Hundreds of troopers, like Trooper Horne, will be out looking for people who aren't wearing their seat belts. Utah Highway Patrol Col. Daniel Fuhr said, "Regular seat belt use is the single, most effective way to protect people and reduce fatalities in crashes."
The UHP says on an average day in Utah, there are 150 crashes, involving 400 people, resulting in 75 injuries and one death. Many times, those deaths are because the person wasn't wearing a seat belt.
And as for those who say a seat belt could actually trap them and kill them, Horne said, "I think that's a myth. It's kind of hard to justify that anymore. We have enough proof and experience now to know that's not usually the case."
The UHP also says your chances of surviving a car crash increase 19 percent if you're wearing a seat belt.
E-mail: acabrero@ksl.com
×
Most recent Utah stories