Estimated read time: 3-4 minutes
This archived news story is available only for your personal, non-commercial use. Information in the story may be outdated or superseded by additional information. Reading or replaying the story in its archived form does not constitute a republication of the story.
LITTLE SAHARA, JUAB COUNTY -- A non-fatal ATV crash at Little Sahara Sand Dunes on Saturday has raised a question about medical response. In such a remote area, is it the responsibility of government to have medical personnel standing close by in case someone gets hurt?
On the busy holiday weekends, medical workers are stationed close by, along with helicopters. But most weekends they're 30 miles away in the two nearest towns, even though there are far more people at the sand dunes, living dangerously.
There were more than 10,000 people at Little Sahara last weekend, a fairly typical turnout of motorized recreationists. When Silvana Mestrallet got badly hurt, she waited an hour for a medical crew after her friends called 911.
Mestrallet's friend Hailee Oman said, "It just rang and rang. I mean no one picked up, and we have confirmation on a telephone record that it was 20 minutes before we actually talked to someone. We were told it would be 10 more minutes, which it ended up being 40 after we talked to 911."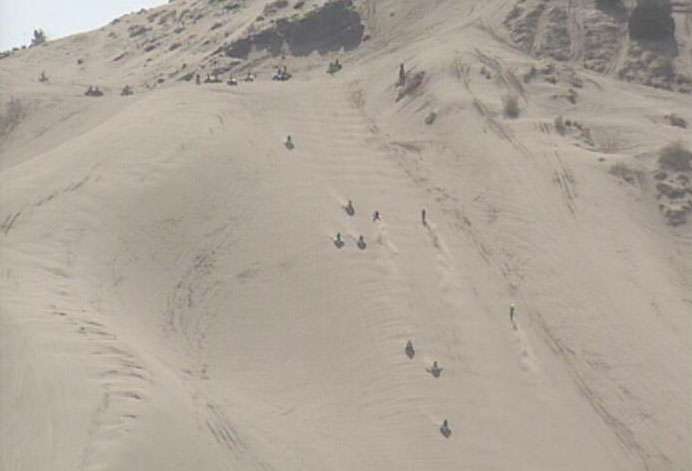 Bureau of Land Management West Desert District Manager Glenn Carpenter said, "That's a county responsibility, and they do a good job." The federal BLM supervises Little Sahara. Juab County handles emergencies.

They say it's not practical to have medical personnel always on standby in such a remote area. "In a small populated county like Juab County, they're stretched pretty thin with the resources that they have. I know they want to provide the best care that they possibly can, and I think they do, but it's just plain difficult."

But the victim's friends say the sheer number, thousands of recreationists at Little Sahara, ought to influence priorities. Oman said, "It raises a huge concern. I hope not to get hurt out there just for that reason."

[View Larger Map](http://maps.google.com/maps?f=q&source=embed&hl=en&geocode=&q=little+sahara+state+park&sll=39.629887,-112.375717&sspn=0.049381,0.11158&ie=UTF8&ll=39.651566,-112.383785&spn=0.098761,0.22316&t=h&z=13&iwloc=A&cid=18296575396931026523)

One factor may have been a competing event several miles to the north, a nationally sanctioned motorcycle race that had its own demand for medical services. There were a couple of fairly serious accidents that actually required people to be helicoptered out," said Carpenter. "So that did tie up the county's capability for a period of time there."

"As long as it's riding weather, they should have someone regardless, that's on call just for the sand dunes," said Oman. "There's too many people out there, and everybody's reckless, and people aren't wearing the proper equipment, so they're liable to get hurt."

The Juab sheriff told KSL he doesn't believe anyone let a 911 call go unanswered for 20 minutes. He thinks it was a technical malfunction. The good news: Silvana Mestrallet had a severe laceration to her abdomen but, after surgery, she's out of the hospital and out of danger.

E-mail: hollenhorst@ksl.com

×
Most recent Utah stories