Estimated read time: 2-3 minutes
This archived news story is available only for your personal, non-commercial use. Information in the story may be outdated or superseded by additional information. Reading or replaying the story in its archived form does not constitute a republication of the story.
John Daley Reporting Will your holidays be high season for lost luggage? John Daley traveled to the airport this afternoon and finds more travelers are losing it because airlines are losing their bags.
For some of us this season it's not the Grinch Who Stole Christmas, instead it's the Grinch Who Lost My Luggage that travelers should worry about. One culprit is the new rules about carry-on bottles of liquids and gels that has more people checking their bags.
Doug Lythgoe, Airline Passenger, Eden, UT: "Aggravating? Very aggravating, yes."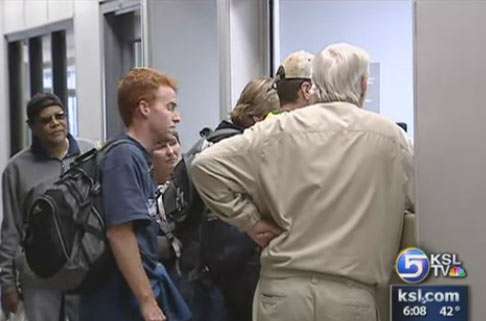 Some travelers arrived in SLC on a delayed flight from San Francisco. One, coming in from Hong Kong, was fed up with his flyer.
Airline Passenger: "United, don't fly, ever, ever."
He says the carrier misplaced his luggage for the second time in three weeks.
Doug Lythgoe: "And they guaranteed us our bags would be here."
The numbers skyrocketed after the federal Transportation Security Administation changed the rules last summer after a terror threat caused them to ban any larger containers of liquids and gels.
In September 183-thousand airline passengers more than a year earlier lost luggage, that's a 92 percent increase. Globally about 30 million bags are mishandled each year, most are eventually reuintied with their owners. A percentage, about 200-thousand, are not.
Travel experts say one simple thing could help the hassle, check in early.
Rolayne Fairclough, AAA Utah: "Make sure not only for you to arrive early to get through those lines, but also your luggage needs that time too."
One airline suggests arriving at check-in an hour and a half early this holiday season.
Terry Johnson, Southwest Airlines Customer Service Manager: "It will give us enough time to get those bags on board. It'll give us enough time to get them taken out to the plane from here at the ticket counter."
Another idea, get a uniquely-colored bag that won't be confused with other luggage. Or pack less, which may be easier said than done.
Angela Holt, Airline Passenger, Chicago, IL: "There's nothing I can personally do. Travel lighter, ha, ha. Question: Is that going to happen? I doubt it, ha, ha. I have too many shoes."
Here's a few tips for you:
Remember 3-1-1, liquids and gels must be in a 3 ounce container or one small plastic bag, one bag per traveler.
Also, mark your luggage with a ribbon or something to easily identify it.
And put your contact info inside you bag in case your luggage tag gets torn off.
And check the TSA rules.
×
Related links
Most recent Utah stories