Estimated read time: 5-6 minutes
This archived news story is available only for your personal, non-commercial use. Information in the story may be outdated or superseded by additional information. Reading or replaying the story in its archived form does not constitute a republication of the story.
WASHINGTON D.C. -- President Barack Obama reached across the political divide Saturday and named Utah Gov. Jon Huntsman to the sensitive diplomatic post of U.S. ambassador to China. Huntsman accepted the job that will take him away from his duties in Utah.
Saturday's announcement means Huntsman will end his second term as Governor of Utah early. It's something he says he didn't expect to do. But he said when his country came calling, he couldn't say no.
---
I wasn't looking for a new job in life, but a call from the president changed that.
–- Gov. Jon Huntsman
---
The White House contacted Gov. Huntsman about a month ago to first discuss the ambassador post. On May 5, Obama's Chief of Staff Rahm Emanuel made the official offer, and Huntsman accepted.

"Mr. President, I humbly accept your call to service," Huntsman said Saturday. And with that, the 49-year-old, enormously popular two-term governor of Utah publicly accepted the post in a Democratic administration.

Obama's remarks

With Huntsman at his side, Obama said in brief remarks Saturday that he made the appointment "mindful of its extraordinary significance. Given the breadth of issues at stake in our relationship with China, this ambassadorship is as important as any in the world because the United States will best be able to deal effectively with global challenges in the 21st century by working in concert with China."

Obama said, "Throughout his career, Jon has shown a willingness to move beyond the old ideologies and stale debate that all too often bring progress to a standstill."

Visit msnbc.com for [Breaking News](http://www.msnbc.msn.com), [World News](http://www.msnbc.msn.com/id/3032507), and [News about the Economy](http://www.msnbc.msn.com/id/3032072)

The president is saying what many believe, that Huntsman is a different kind of Republican. He advocates a more moderate agenda, supporting civil unions and championing the environment.

But perhaps more importantly, Huntsman knows Asia. "He's lived in Asia three times and is fluent in Mandarin Chinese. That's the kind of ambassador we need in China," Obama said.

Huntsman, national co-chairman of John McCain's failed bid against Obama, said he never expected "to be called into action by the person who beat us. But I grew up understanding that the most basic responsibility one has is service to country. When the president of the United States asks you to step up and serve in a capacity like this, that to me is the end of the conversation and the beginning of the obligation to rise to the challenge. I stand here in my final term as governor with plenty to do. I wasn't looking for a new job in life, but a call from the president changed that." [[CLICK HERE](http://www.ksl.com/?nid=148&sid=6509378&pid=3) for text of Obama/Huntsman remarks]

Though Huntsman has accepted the president's job offer, it still has to be approved through the Senate. A timeline for the transition won't be released until Monday.

Good news for Utah

The move certainly adds to Huntsman's very impressive political resume. Utah gains more credibility, too.

Kirk Jowers, director of the Hinckley Institute of Politics at the University of Utah said, "It's great for the state of Utah. We can't keep our governors on the farm. We've lost our last two to administrations."

Gov. Mike Leavitt was plucked from office mid-term by Pres. George Bush. Now Jon Huntsman is chosen by Pres. Barack Obama. With the governor's previous experience in Asia, the choice was almost automatic.

"Huntsman is the perfect person for ambassador to China. He speaks fluent Mandarin, he's an elected official, he's a moderate Republican who has a lot of respect on both sides of the aisle," Jowers said.

Huntsman will play a huge role in improving U.S.-Chinese relations. China is one of the world's biggest economic players; there are human rights issues, and major environmental concerns. China is the world's largest emitter of greenhouse gases, and the governor will be in the middle of the effort to get China to sign an international agreement to curb its emissions.

A presidential contender?

Huntsman's positions on the environment and other issues led some to consider him a potential contender for president in 2012. But Jowers says this likely puts off any Huntsman presidential aspirations to 2016.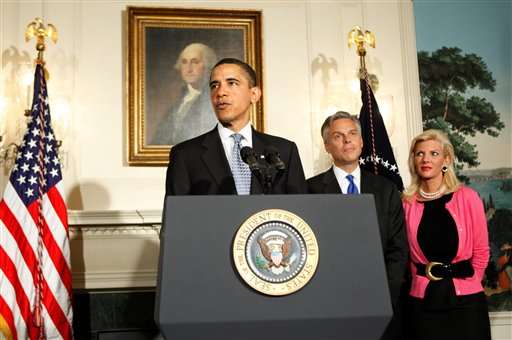 "I think if you're looking at it realistically, besides the obvious disadvantages of a small state governor and the Republican brand not doing too well at this moment, he also has the competition from Mitt Romney, which would make some of those disadvantages even more extreme," Jowers said.
"And, there's a sitting president who still has a pretty good popularity ratings. So, 2016 is the better time for a Republican to go anyway," he said.
Huntsman will be 56 in 2016, young enough to handle the rigors of a national political campaign. Republican strategists say serving as U.S. envoy to China will only improve Huntsman's reputation.
Congressional reaction
Utah's only Democratic member of Congress, Rep. Jim Matheson, said he was pleased with the appointment. "It's a great bipartisan appointment by the president," he said.
Senators Bob Bennett, R-Utah, and Orrin Hatch, R-Utah, also praised the move.
Bennett said, "Governor Huntsman is well qualified to be Ambassador to China; I recommended him for that post when Colin Powell was Secretary of State. He will take up his duties at a time when the relationship between our two countries is of great importance. All Utahns should take pride in this and all Americans should wish him well." [[CLICK HERE](http://www.ksl.com/?nid=148&sid=6509378&pid=4) for more responses]
Huntsman's confirmation is expected to sail through the Senate.
"Don't ever play Asian geography against Governor Huntsman. He will annihilate you. I've joked with him that he knows cities in China more than he knows cities in Utah. So he'll be well received over there," Jowers said.
If confirmed by the Senate, Huntsman will succeed Clark Randt.
Utah Lt. Gov. Gary Herbert would become governor until a special election in 2010. An announcement is expected Monday on the transition plan from Gov. Huntsman to Herbert.
------
Compiled with information from Keith McCord,Andrew Adams and The Associated Press.
×
Related stories
Most recent Utah stories