Estimated read time: 2-3 minutes
This archived news story is available only for your personal, non-commercial use. Information in the story may be outdated or superseded by additional information. Reading or replaying the story in its archived form does not constitute a republication of the story.
BOX ELDER COUNTY -- Farmers in northern Utah are worried a new infestation of black grass bugs may destroy their crops.
Saturday morning they started fighting back. Farmers say if they lose this battle, it could put some farms out of business.
The bugs aren't very big, but they are causing a lot of damage for farmers in Howell. Arthur Douglas said, "I've never seen this kind of an infestation." Douglas is a farmer and president of the Utah Farmer's Union. When the bugs started spreading across the Howell Valley, he knew it was trouble.
"It takes and goes in and sucks the chlorophyll out of the leaf of the plant and just dries the plant right up to nothing," he said.
Affected grass is white because the bug has literally sucked the life out of it. And it's spreading.
---
The bug just devastates the crops. It just eats you out of house and home.
–- Lyle Nessen, farmer
---
Grain farmer Lyle Nessen said, "They're just starting to move into the grain this year."
Last year, he lost some wheat because of the bug. He knows this year he and other farmers could lose it all.
"The bug just devastates the crops. It just eats you out of house and home," he explained.
So Saturday morning, the farmers took action. Armed with a device for spraying chemicals, a helicopter and an airplane went after the bug.
Nessen said, "It has a residual for approximately seven days, so any bug that eats it from now to then, we'll kill it."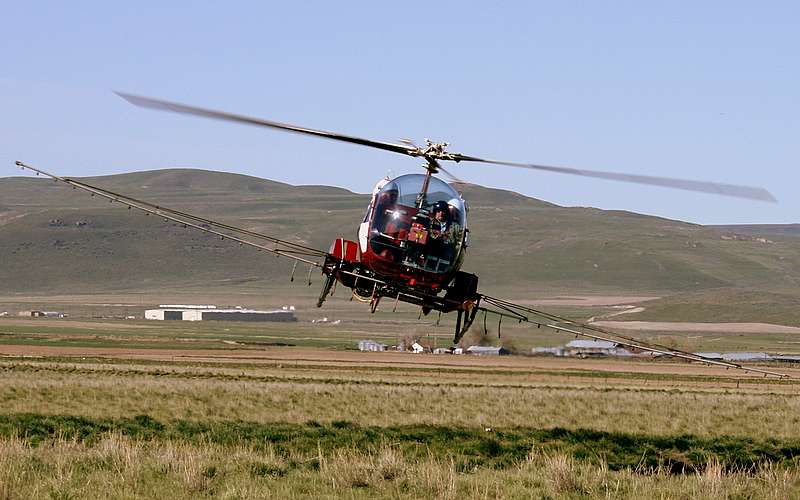 Most importantly, farmers are hoping to kill all the bugs before they start laying eggs. "If we can do this before they lay their eggs, then we've got a great chance to control them," Nessen said.
The farmers' futures may depend on it. Douglas said, "Economically, it's a pretty tough situation."
"Things are hard as it is to make a living in agriculture on a farm," he added. "So that's what we've got to do is control it. We're doing the best thing we can do."
Federal money helped pay for the spraying. The farmers were able to pay for the chemicals with help from the Utah Department of Agriculture and other agencies. Now they're just hoping it's enough.
E-mail: acabrero@ksl.com
×
Photos
Related links
Most recent Utah stories