Estimated read time: 2-3 minutes
This archived news story is available only for your personal, non-commercial use. Information in the story may be outdated or superseded by additional information. Reading or replaying the story in its archived form does not constitute a republication of the story.
SALT LAKE CITY -- The war on terror has taken a great toll on our fighting men and women. An unprecedented percentage of soldiers come home missing an arm or a leg. Now, a new generation of wounded American troops desperately needs a new generation of prosthetic limbs.
At the George E. Wahlen Department of Veterans Affairs Medical Center researchers hope to take a big step forward with artificial legs and arms.
Neil Persson wrestles with prosthetic limbs every day. "If it's not part of you, you can't walk worth a darn," he said.
He lost both legs and his left arm in Vietnam when he stepped on a booby trap in 1970. Veterans and researchers agree present technology is not good enough.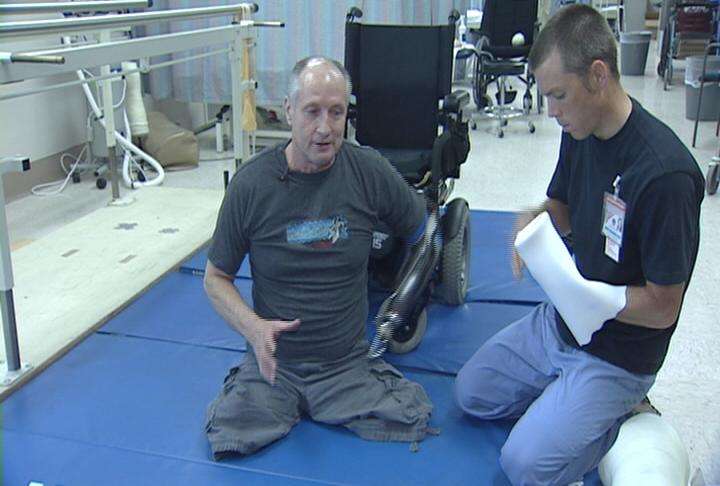 In today's wars, more troops survive their battlefield injuries because of body armor. "While their body is protected, their limbs aren't," explained VA researcher Dr. Peter Beck. "So, we'll see men and women with two lower extremities and one upper extremity gone."
Persson's artificial limbs attach to his residual limbs with sockets; they slide on like socks. They work, but the connections blister the skin and the prostheses need to be regularly refitted.
So, Dr. Peter Beck is working on a revolutionary prosthesis that attaches to the bone--a process called osseointegration. A titanium rod goes through the skin and into the center of the shaft of the bone, which has an affinity for titanium. "So the bone will grow into it and, once it's grown in, you can't pull it out, and it's very stable and strong," Beck said.
The bone actually grows into the porous titanium structure.
Persson said, "It would be just phenomenal, in my opinion."
With this generation of prosthesis, the veteran can't really sense the surface. With the new osseointegrated technology, they would have a better sense for what it is they're walking on.
Beck explained, "Osseointegrated prostheses can transmit vibration, and the patient can perceive the ground. They can feel a change in the ground. They can feel a rock under their prosthetic foot."
Persson is thrilled with the prospect. "It's going to be solid because it's metal against metal. Once you get that good and solid and tighten it up, it's just going to be part of you," he said.
Those limbs could be available in the U.S. in five years. The main drawback is fighting off infection. Dr. Beck is testing several strategies to accomplish that.
E-mail: jboal@ksl.com
×
Most recent Utah stories