Estimated read time: 2-3 minutes
This archived news story is available only for your personal, non-commercial use. Information in the story may be outdated or superseded by additional information. Reading or replaying the story in its archived form does not constitute a republication of the story.
SALT LAKE CITY -- A Utah company has petitioned the federal government, offering its new portable pathogen detector to identify H1N1 virus infections within minutes instead of days.
The device can be taken anywhere it's needed and uses the organism's genetic footprint to make the diagnosis.
Tracking the H1N1 virus quickly is what it's all about. That's what the DXNA company in Utah is offering to the government for use in the current outbreak of swine flu.
The CDC is facing a backlog, trying to evaluate suspect samples of swine flu coming in from around the country.
Meanwhile, schools like those in Park City remain closed, waiting to see if three students there are confirmed cases.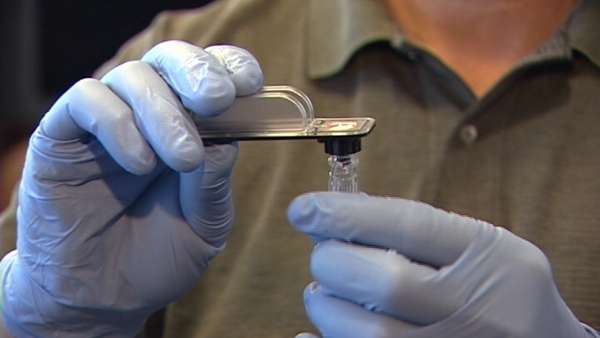 But what if you could take this portable device called GeneSTAT right on site. A user could swab the throat or nose, place the sample into a module, insert the module into the detector and Within minutes the user has controlled results that show up as simple data on the device itself, or more detailed on a lap top.
Dr. Mark Rosenfeld, chief science adviser for DNXA, explained, "What we're able to do is exactly that same analysis on site in a very short period of time, typically and, in fact, almost always under an hour."
Since GeneSTAT identifies organisms through either DNA or RNA, it's now been sequenced to detect this latest H1N1 virus. It will be tested in a secure lab next Tuesday.
Meanwhile, the company has applied for an exemption under the government's emergency use authorization, hoping this detector can be of some use in the current outbreak.
Phillip Grimm, CEO of DXNA explained, "Right now, I've put our company on notice to be prepared to be able to ship, basically, a thousand systems and a half million cartridges in the next month."
GeneSTAT is currently being validated by the Chinese government for detecting avian influenza. It's also been tested in other labs operated under the World Health Organization.
In addition to potential pandemic diseases, agents like: anthrax, tularemia, smallpox, botulism, viral hemorrhagic fever, plague, West Nile virus, Eastern Equine Encephalitis and more can be sequenced for use in the device.
Dr. Mark Rosenfeld says portable detectors could prove useful in a pandemic, if it happens, since early detection may be more critical than treatment.
Detection and rapid containment is the way you control the spread of a virus.
E-mail: eyeates@ksl.com
×
Related links
Most recent Utah stories