Estimated read time: 2-3 minutes
This archived news story is available only for your personal, non-commercial use. Information in the story may be outdated or superseded by additional information. Reading or replaying the story in its archived form does not constitute a republication of the story.
SALT LAKE CITY -- The support for our troops in Iraq and Afghanistan has been strong, but in recent months care packages and donations to support organizations have dropped off.
You can blame the economy and a post-holiday lull, but Blue Star Mothers want to build up the support again. Utahns give generous support to our military men and women in Iraq and Afghanistan.
A Boy Scout who finished up a project dropped a load of care package goods at an Orem Army recruiting office. Veteran Gary Campbell works in that office. His son, Specialist Dustin Campbell, is deployed in Afghanistan right now.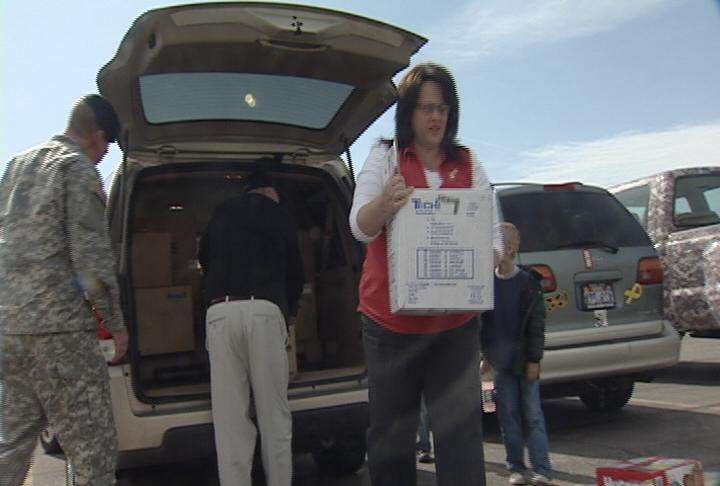 Gary Campbell said, "We was amazed at how much stuff was there was. We knew we couldn't handle it ourselves, so we contacted the Blue Star ladies, and they agreed to get it sent to Iraq and Afghanistan."
The Blue Star Mothers met Campbell in Ogden. They are mothers with sons and daughters at war. They give emotional and financial support to soldiers and their families.
But, they need support too. Blue Star Mother Rhonda Hunter said, "There are ebbs and flows, and right now we're in a slow ebb here. We're really in need of donations and monetary donations, as well."
There are books and magazines for entertainment, shaving cream and lip balm for hygiene, and even silly string the soldiers use to play with the kids, but they also use it to mark off roadside bombs.
"It's not the items so much as just being remembered and know that they're being thought of and missed," explained Campbell.
Hunter said, "Everybody's very thoughtful at Christmas time, but they get kind of forgotten this time of year."
The poor economy and even the weariness of war have cut into the kind of care the Blue Star Mothers can give, but this shipment is headed overseas soon. Hunter explained, "Whether you support the war or not, that's not what we're here to debate. We're here to support our troops."
There's still a bit of a mystery. Campbell doesn't know how or where to thank the Boy Scout who dropped off the donated items. He disappeared after he left the goods at the recruiting office in Orem.
The Blue Star Mothers have established a pantry at the Cache County Armory to help military families there.
E-mail: jboal@ksl.com
×
Related links
Most recent Utah stories