Estimated read time: 2-3 minutes
This archived news story is available only for your personal, non-commercial use. Information in the story may be outdated or superseded by additional information. Reading or replaying the story in its archived form does not constitute a republication of the story.
SALT LAKE CITY -- What do you do if you have 100 million ugly fish in the wrong place? If you're the federal government, you steer a million dollars toward the problem and hope it will do some good. That's what happened in Utah Wednesday. The federal government issued a check to pay for a large-scale commercial fishing operation on Utah Lake.
There are 100 million carp, but the goal is to tackle the 7 million biggest ones to create a cleaner lake that's more fun to fish.
They're big, they're slimy, they're ugly. Not everyone's idea of a tasty treat. "To eat? It's not my first choice," said commercial fisherman Bill Loy.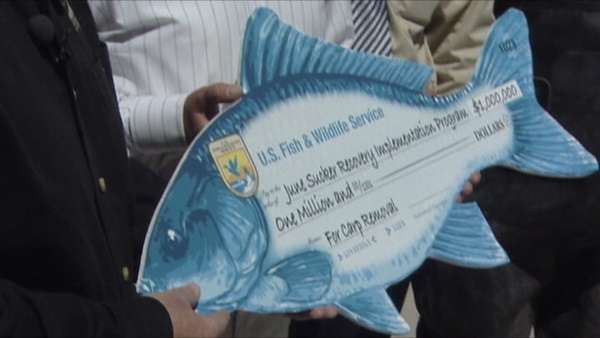 He has caught more than a million pounds of carp in a government pilot program. Now he's revving it up, thanks to a carp-shaped check for a million dollars, intended to drive a stake through the heart of the carp population.
Ralph Swanson, with the U.S. Department of Interior, said, "It is very much detrimentally affecting the environment and the habitats in Utah Lake."
Non-native carp constantly stir the muddy bottom and destroy native species. If Loy's fishing nets knock down the carp population, scientists believe it will restore the ecosystem.
Reed Harris, with the June Sucker Recovery Implementation Program, said, "People will notice a change in water quality. They'll notice that there are more plants out there. The fishing will be better."
Fisherman Paul Roden welcomes it, but wonders if it will work. He said, "This is a large lake to do that on. And I just don't know, for the money spent, if they'll be able to accomplish what they want to do. There's a lot of water out here."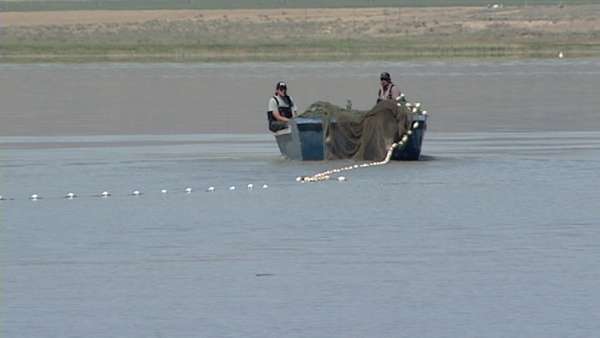 They're paying Loy 20 cents a pound to catch the fish. At this point it's not clear if the fish themselves will generate any revenue.
Loy says carp do have food value. "I mean, there's too many people starving in the world right now to throw them in a hole," Loy said.
But officials have failed to find a food market. And there are questions about PCB contamination. So it's likely millions of carp will be ground up. Harris said, "We're looking at some proposals to turn them into liquid fertilizer. They're already being used for compost. We're using them for mink food. We've been putting them in farmers' fields."
They don't expect to totally eliminate the carp. They're targeting the 5- to-7 pounders. If they can reduce those big ones by 75 percent, they believe the lake will see a turnaround. That's the goal over the next five or six years.
------
Story compiled with contributions from John Hollenhorst and Randall Jeppesen.
×
Most recent Utah stories