Estimated read time: 1-2 minutes
This archived news story is available only for your personal, non-commercial use. Information in the story may be outdated or superseded by additional information. Reading or replaying the story in its archived form does not constitute a republication of the story.
OGDEN -- Several fighter jets simulated emergency landings at Ogden Hinckley Airport Monday, and one of them experienced a real emergency.
Eight F-16s were diverted from Hill Air Force Base but landed safely. One aircraft apparently had some braking issues and went off the runway, causing its landing gear to collapse.
Originally the low-fuel training landings were supposed to take place at Hill Air Force Base, but an aircraft blew a tire on the runway, which made landing there impossible. So, they chose the closest airport: Ogden Hinckley.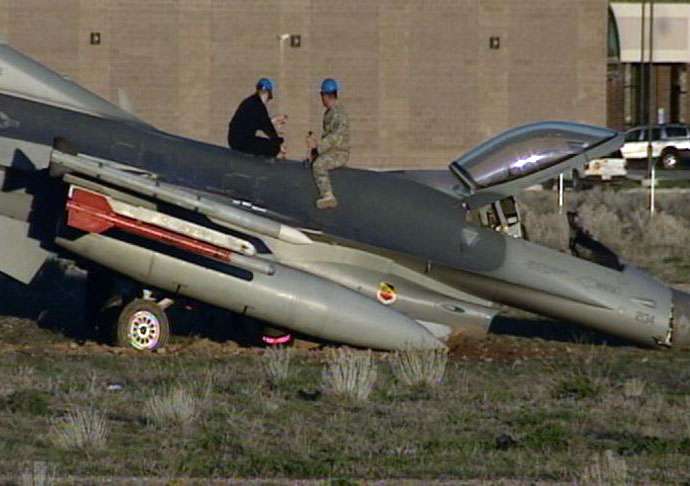 The commander said in an ideal situation, they would've chosen Salt Lake International because it has more runways. In any case, seven F-16s landed without any problem, but an eighth jet touched down, and from what officials could tell it had a braking problem.
"Apparently he was unable to stop the aircraft before the end of the runway. When he got off the runway, the nose gear collapsed as a mechanical failure because it's not used to running off the road like that," explained Col. Scott Dennis, commander of the 388 Fighter Wing. "The fact that he recovered safely and the aircraft is basically intact is probably a testament to our training."
The commander says the issue had nothing to do with the length of Ogden's runway. He said it's 8,000 feet, long enough to land an F-16 safely.
Dennis said they wouldn't know the extent of the damage until they move it and take a closer look. That's probably going to be Tuesday morning.
He all but guaranteed that this aircraft will fly again, and said a neutral department is going to investigate what exactly happened.
E-mail: ngonzales@ksl.com
×
Photos
Most recent Utah stories