Estimated read time: 1-2 minutes
This archived news story is available only for your personal, non-commercial use. Information in the story may be outdated or superseded by additional information. Reading or replaying the story in its archived form does not constitute a republication of the story.
PROVO -- A Provo Cub Scout won a national award Thursday night that not only made his parents proud, it reassures all of us parents that our children do listen when we try to teach them important lessons on how to stay safe.
The Boy Scouts of America convened a special court of honor to present Kade Klevan with a Medal of Merit for performance of service above what's expected of a Scout. Six months ago, he and his younger brothers were eating Halloween candy when the 2-year-old began choking.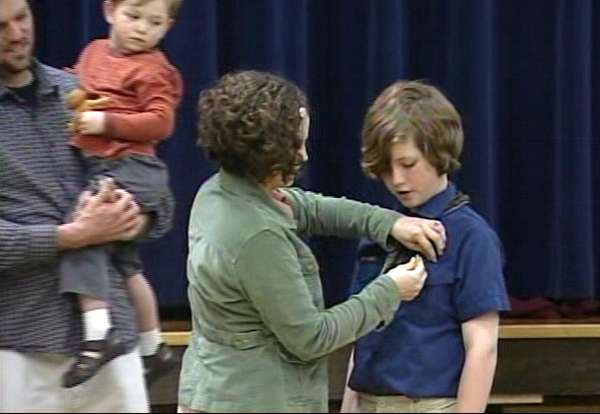 "My brother started coughing," Kade explained. "I got behind him and pumped his stomach. After about three or four times, it came out."
By the time the boy's mother could respond to their calls, the emergency had passed; 9-year old Kade explained to her what had happened.
"I looked at him and said, 'You did the Heimlich maneuver?'" April Klevan said.
Years earlier, she had told him a story about how her childhood friend choked to death on a piece of candy because no one knew what to do. She had showed him the Heimlich maneuver but never dreamed it would help this future Scout be prepared. "I said, 'You saved your brother's life!'" April said.
She's grateful the story made an impression and hopes other parents realize kids do sometimes listen. "It's worth the time to teach kids about safety," April said.
Of the 70,000 Scouts in the National Parks Council, one got this award last year. So, it's quite a high honor.
E-mail: dwimmer@ksl.com
×
Most recent Utah stories