Estimated read time: 2-3 minutes
This archived news story is available only for your personal, non-commercial use. Information in the story may be outdated or superseded by additional information. Reading or replaying the story in its archived form does not constitute a republication of the story.
BOX ELDER COUNTY -- ATK let 300 workers go Tuesday; Autoliv had to lay off about 250 workers in February; and last April, La-Z-Boy shut down its entire Tremonton operation, leaving close to 650 people without a job.
All three of these businesses are major companies, and all three of them are, or were, located in Box Elder County. For a rural county like Box Elder, the loss of jobs has been devastating.
"There are very few jobs available to people in this county," said Perry resident Dee Andersen. "All of our children had to leave to find employment, and what jobs are available here are consumed very rapidly."
Andersen and his wife, Elaine, were having dinner at Maddox Ranch House in Perry when we talked to them about how, or if, all the layoffs were affecting the county.
"It's absolutely affecting us, because these are hard times and that makes it even harder," Elaine said..
A short time later, at the table behind where the Andersens were sitting, we met Leslie Fredrickson and her friend Bonnie Ellis.
Fredrickson was one of those who left ATK on Tuesday, but she chose to retire after 32 years with the company. She says going in to work on Tuesday was tough.
"It was depressing because you know so many families who are affected," Fredrickson said. "I've been thinking about retiring for a couple of years now, and I just decided this was the time and maybe I could save somebody's job."
Fredrickson says ATK always treated her well, and the pay was very good. She's worried where former ATK workers will go now that so many other major companies in Box Elder County have either had layoffs or shut down completely. "If you still want to stay here, there's nothing," she said.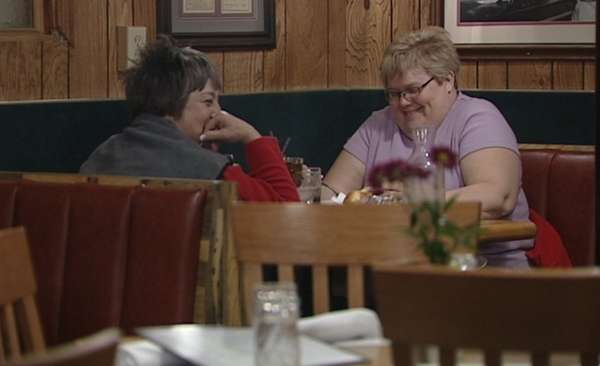 Even though Ellis still works at ATK, her brother was one of those let go from the company. "It's hard to watch family members have to start all over again," she said.
Last year, Ellis' sister lost her job from La-Z-Boy. "I'm actually grateful I still have a job. When you see your neighbors and friends and family losing their jobs, it really hits home," she said.
There is hope in Box Elder County for high-paying jobs, though. In 2010, the new Proctor and Gamble plant should be completed.
The company has said it is planning on hiring close to 300 local workers when the plant opens, and more jobs will most likely be needed when operations kick into high gear. Those jobs are also expected to be high paying.
"They keep promising they're bringing people in to work, so I hope it is true," Fredrickson said.
E-mail: acabrero@ksl.com
×
Most recent Utah stories