Estimated read time: 2-3 minutes
This archived news story is available only for your personal, non-commercial use. Information in the story may be outdated or superseded by additional information. Reading or replaying the story in its archived form does not constitute a republication of the story.
SALT LAKE CITY -- A teenager is looking for her mother who vanished from downtown Salt Lake 14 years ago. She's hoping an age-progression photo of her mother will help find her.
Two scrapbooks hold the pictures and memories 19-year-old Stephanie Amandia Cook has of her mother. "They're all I've got," she said.
But now, Stephanie has a new photo to add to her collection. It's an age-progression photo of what Bobbi Ann Campbell would like at 38 years old.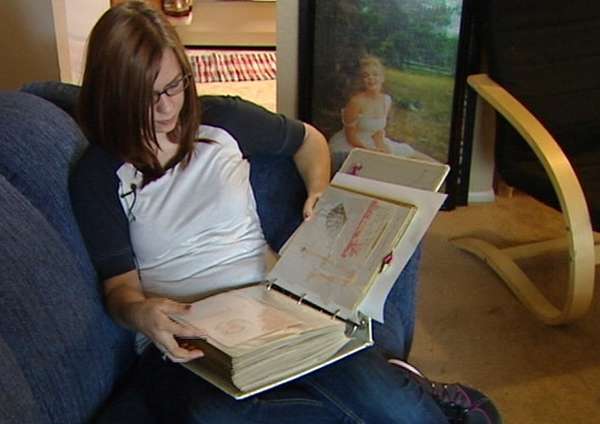 "Seeing that was hard, to see what she would, like, look like," Stephanie said.
She found a company online, Phojoe.com, that makes the photos to help find missing people. Bobbi Ann has been missing since 1995. She left Stephanie, then 5 years old, at a friend's house while she went to the grocery store.
"She never came home to get me. My grandparents came to get me," Stephanie said. "I thought she left me at first, but I knew she couldn't just leave me. She loved me too much."
The only clue to ever surface in the case was in 1996. Bobbi Ann's car was found parked along the Jordan River. "Her clothes, money, makeup in it; everything was still in the car," Stephanie said.
Stephanie says she does not believe her mother is still alive. "She was involved with drugs and she was trying to get away from it. I think she ran into bad people and bad things happened," she said.
If her new photo doesn't lead to any clues, Stephanie will keep searching for her mother -- another 14 years if she has too. "You can't let go of someone you love. It' s my mom," she said.
The Salt Lake County Sheriff's office knows Bobbi Ann Campbell's case has gone cold, but they haven't forgotten her. When an unidentified women's body is found, they say they check to see if it is Campbell. They say they will investigate any tips generated from the new photo.
The age progression photo used in the video portion of this story was provided by Phojoe.com
E-mail: abutterfield@ksl.com
×
Related links
Most recent Utah stories