Estimated read time: 2-3 minutes
This archived news story is available only for your personal, non-commercial use. Information in the story may be outdated or superseded by additional information. Reading or replaying the story in its archived form does not constitute a republication of the story.
TAYLORSVILLE -- A drug dealer attempted to flee from police early Wednesday morning but instead ended up behind bars.
Law enforcement agents had been investigating 52-year-old Douglas Francom for nearly 8 months. They say he's a dealer who has been distributing large amounts of methamphetamine around the Salt Lake Valley.
Law enforcement found about 8 ounces of Meth in Francom's possession this time. That's a pretty small amount compared to the 70 ounces they found in his possession in December.
Sgt. John Salazar, with the Midvale Police Department, said, "I don't know where he is in the hierarchy of this distribution group, but 70 ounces of meth in December, he is definitely in distributing somehow."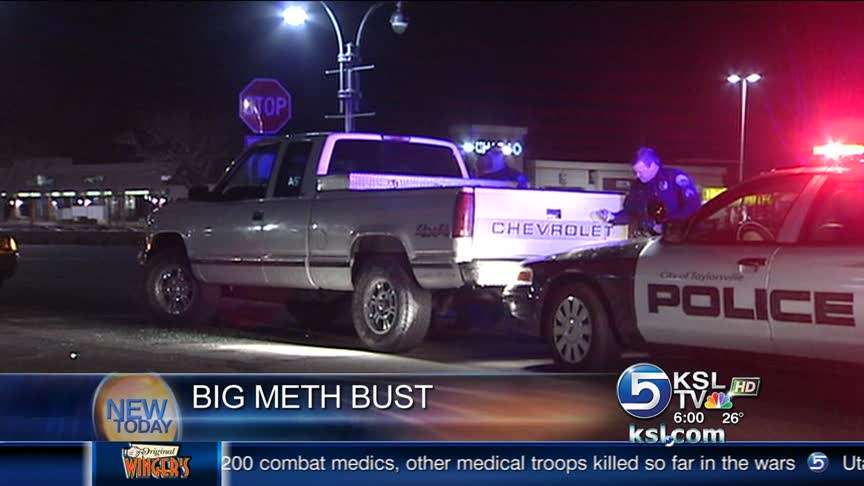 Francom is already facing two second-degree felony drug charges and a misdemeanor weapons offense from a drug bust on December 1, 2008. Now he faces two more second-degree felony charges for aggravated assault on police officers.
Police had been looking for Francom for several weeks. They were tipped off that he was staying at the Studio Suites Tuesday. As the DEA Task Force, Midvale Police, and Taylorsville City Police were about to serve a search warrant around 1:30 a.m. on Wednesday, three visitors showed up and then left.
"Several detectives followed, stopped and found large supply of cash and meth inside the vehicle. Detectives believe this was supplier," Midvale police Sgt. Marcelo Rapela said.
Two of the three alleged suppliers found in the vehicle, Carlos Ramierez-German, 26, and Jose Ernesto Mercado, 20, have been booked into Salt Lake County Jail. The third suspect is still being investigated.
Back at the hotel Francom would not surrender to police but instead rammed his truck into a DEA vehicle and a Taylorsville City police car.
Salazar said, "He was extricated out of the car by the use of a K-9; they had to crash a window to get him out."
Overall, police found about 8 ounces of Meth, and about $10,000 in cash. While that does not sound like much, police say Francom has been known to distribute much larger amounts in other areas of the valley.
"This person has been involved in distribution of meth for many years in the valley, and at this point, hopefully, this will get him incarcerated into the federal prison system," Rapela said.
Midvale police will continue to work with the DEA Task Force on this case. Sgt. Salazar says he expects the indictment process against the arrested individuals to begin on Wednesday.
The Utah Highway Patrol, South Salt Lake, and the Motor Vehicle Division were also involved in the investigation.
E-mail: spark@ksl.com
×
Photos
Most recent Utah stories