Estimated read time: 2-3 minutes
This archived news story is available only for your personal, non-commercial use. Information in the story may be outdated or superseded by additional information. Reading or replaying the story in its archived form does not constitute a republication of the story.
SALT LAKE CITY -- There are increasing signs the economic downturn is cutting deeper and hurting more people than ever in Utah. One indicator: emergency food distributions are rising significantly.
There are a number of places people can go to get help when they feel they just can't make it on their own. More and more, it's people who've never come in before.
Food handouts from the pantry at Crossroads Urban Center went up 24 percent last year, and there's no sign the trend is peaking.
"The demand for emergency food is continuing to rise pretty aggressively," said Glenn Bailey, executive director of Crossroads Urban Center. "It's across the country, of course. I mean, I think any community in America that you went to today would have a similar story."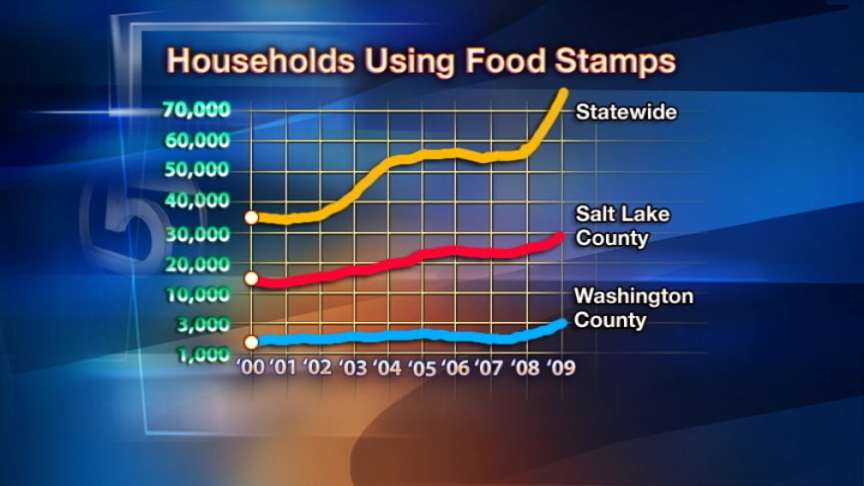 In fact, Joe Huennekens and his fiancée came here from Oregon. Like the Okies in the Great Depression, they hit the road looking for better prospects. Oregon's unemployment rate is twice as high as Utah's, so they thought Utah might be the answer.
"It's not the greatest, but it's not the worst either," Huennekens said.
Now they're living in Huennekens' car, still looking for work and relying on charity to get what they need to get by "Food, clothing voucher; I heard that they had gas vouchers also. Because we've been staying in my car, so, gas is a big one because it's cold here," Huennekens said.
Utah still hasn't hit the unemployment peak we saw in 2002. It was 5.9 percent then; 4.6 percent now. But some indicators are hitting record levels.
Seventy thousand Utah households now rely on food stamps, after a decade of steady increase and a jump last year of 27 percent. Salt Lake County food stamps jumped almost 32 percent last year; in the St. George area, it jumped nearly 67 percent.
Hard times are hitting people who aren't used to it. "In February, about 20 percent of all the people that came to us for emergency food had never been here before. That's a troubling concern," Bailey said. "The other reason I'm concerned is nobody knows where the bottom is in this thing."
In fact, a new Dan Jones survey of Utah business leaders suggests the worst is yet to come. Their forecast is for a weakening of their companies, lower capital spending and continuing job cuts.
E-mail: jhollenhorst@ksl.com
×
Most recent Utah stories