Estimated read time: 2-3 minutes
This archived news story is available only for your personal, non-commercial use. Information in the story may be outdated or superseded by additional information. Reading or replaying the story in its archived form does not constitute a republication of the story.
SPRINGVILLE -- Fatema Khan of West Valley City was led out of the Wal-Mart store in Springville Friday afternoon in handcuffs, along with the large purse police say she stuffed full with 69 Blu-ray discs before trying to walk out of the store.
"They caught her. She didn't apparently want to be caught, so she tried to fight her way out with her Blu-ray discs in her purse, but they managed to catch her," said Springville police Lt. Dave Caron.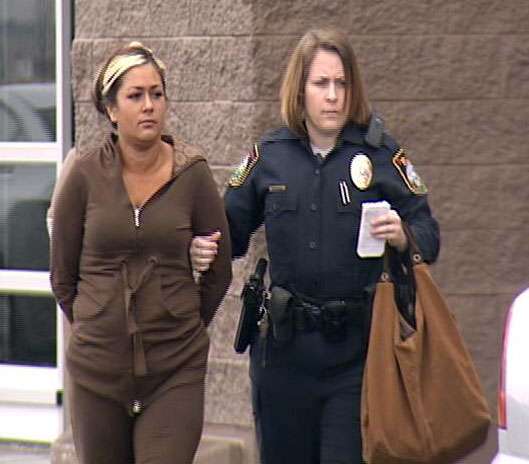 It's not your average case of shoplifting. In fact, police say it was a very successful theft ring of movies until she was caught.
Officers say Khan would stack pizza boxes in the shopping cart to block surveillance cameras while she stuffed movie after movie into her purse.
Because she assaulted workers while trying to shoplift Friday, police booked Khan into the Utah County Jail on charges of robbery and felony theft. She was already wanted on $70,000 worth of outstanding warrants, and investigators suspect she has stolen hundreds of movies.
"I believe the total she has stolen now is probably more than $10,000 worth of Blu-ray discs and DVDs from Wal-Mart stores over the last several weeks," Caron said.
It was a loss prevention employee who recognized Khan from a similar theft in American Fork and called police.
Investigators are unsure if Khan was trying to sell the movies online or on the street, but they suspect drug use may be the motivation.
It's a crime that could mean some serious time in prison. "Sometimes they can beat the system for a little while. Sooner or later, they get caught. The charges she is facing are felonies, and so you can go to prison for stealing movies, and rightfully so. But that's a choice she made," Caron said.
Police are still looking for the woman's accomplice who drove away after she was caught. They have a good idea who he is and are following up leads tonight.
E-mail: spenrod@ksl.com
×
Most recent Utah stories