Estimated read time: 2-3 minutes
This archived news story is available only for your personal, non-commercial use. Information in the story may be outdated or superseded by additional information. Reading or replaying the story in its archived form does not constitute a republication of the story.
SALT LAKE CITY -- A music student at the University of Utah is one of four young soloists in the world who recently won the opportunity to perform at the Kennedy Center in Washington, D.C.
At a rehearsal Wednesday night, Bobbi Blood's fingers tapped lightly on the keys as she breathed, and her flute came to life. She learns the music by ear because she cannot see the composition.
"I was about 3 when I knew I wanted to be a musician," Bobbi said.
Soon, her rehearsal will turn into a performance at the Kennedy Center. She won the VSA Arts International Young Soloist competition, which is for young musicians with disabilities, and a $5,000 dollar prize.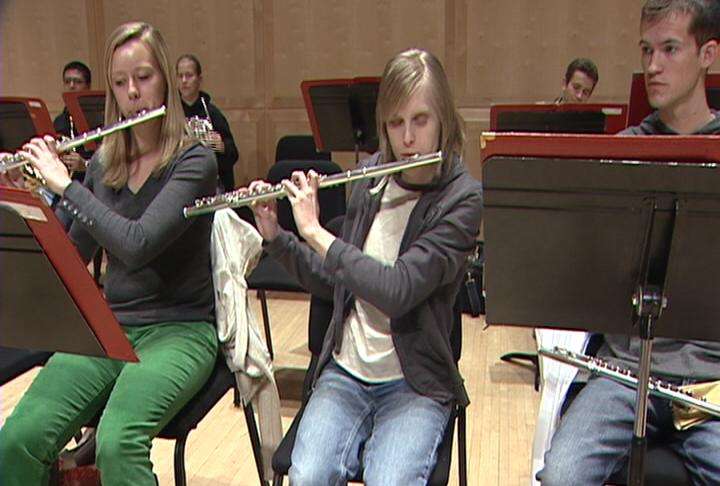 She applied with a video last November. "During that time, I had no idea whether I'd made it to Washington, D.C. I'd entered and didn't really expect anything to come out of it because I just wanted to enter for the experience," Bobbi said.
Bobbi came highly recommended by the Utah judge, Lindsay Wood, of the Utah Symphony. "I was immediately impressed by the beauty of your tone, the musicality of the phrases and the attention to detail. There is great technical proficiency ... I think you have a great future ahead of you," she said
"I kinda didn't know what to do at first. I was sort of shocked," Bobbie laughed.
No one else was surprised. A 4.0 University of Utah student who plays with the symphony orchestra and sings with the a capella choir, Bobbi Blood, is known as gifted.
As to what Bobbi will be performing at the Kennedy Center, she has to submit a list of favorites. From that, the committee chooses for her.
Bobbi admits she didn't know much about the Kennedy Center except that many stars perform there, now that list includes the name Bobbi Blood.
She performs on April 28 at the Kennedy Center with one other American and two international student soloists.
E-mail: cmikita@ksl.com
×
Most recent Utah stories