Estimated read time: 2-3 minutes
This archived news story is available only for your personal, non-commercial use. Information in the story may be outdated or superseded by additional information. Reading or replaying the story in its archived form does not constitute a republication of the story.
PLEASANT GROVE -- The Supreme Court handed down a victory for the City of Pleasant Grove Wednesday in a dispute over this monument to the Ten Commandments in a city park.
The court's ruling says a city has right to display the Ten Commandments in a public park without violating the First Amendment, but it may not be the final word in this controversy that has been going on for several years.
Wednesday's ruling involves just one aspect to the First Amendment, that local governments have a right to free speech.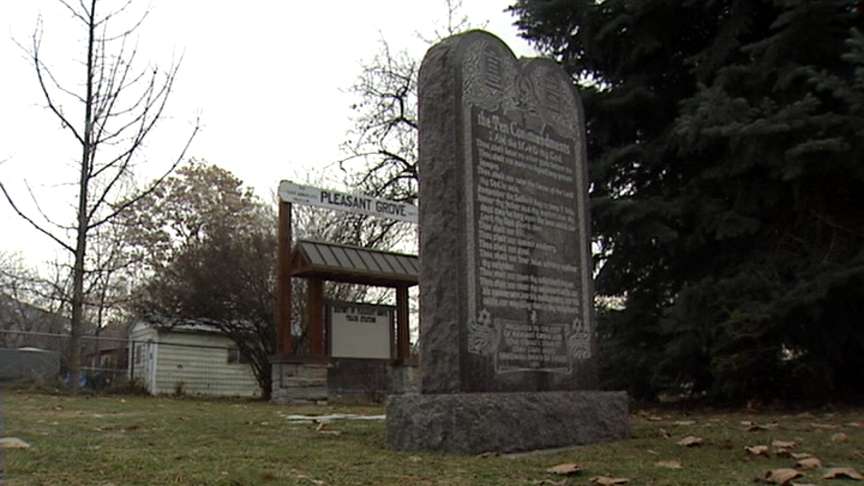 "Clearly, the court stated today in their findings that government has the right to free speech, and we're speaking here in the sense of this monument fits with our historical park, said Pleasant Grove Mayor Michael Daniels.
The Fraternal Order of Eagles donated the monument to Pleasant Grove City in 1971, and no one seemed to mind it was here until a few years ago.
Summum, a Salt Lake-based religion, wants its seven aphorisms to also be allowed in the park. Pleasant Grove City successfully fought the idea, but Summum's attorney believes while Wednesday's ruling is a lost battle, it may actually help it win the war.
"A government, in this case the city of Pleasant Grove, cannot favor one religion to the exclusion of another, cannot give exclusive rights to one set of religious beliefs to be displayed in the park, to the exclusion of others. That's the next argument we are going to be making and based on what the city of Pleasant Grove said to the Supreme Court, I think we are going to prevail," said attorney Brian Barnard.
For now, Pleasant Grove is celebrating its unanimous Supreme Court victory. "I think this has been a great example of how the justice system in the United States works. We have a Constitution, and our laws are founded upon it, and here is an example of going right to the route of where those interpretations are made, and we have a 9-0 verdict," Daniels said.
A legal organization in Washington ,D.C., handled the lawsuit for Pleasant Grove free of charge. However, it is likely the high court will be asked to examine other aspects of the monument in the park in the future.
E-mail: spenrod@ksl.com
×
Related stories
Most recent Utah stories