Estimated read time: 2-3 minutes
This archived news story is available only for your personal, non-commercial use. Information in the story may be outdated or superseded by additional information. Reading or replaying the story in its archived form does not constitute a republication of the story.
In the midst of this recession, some companies find a way to defy the troubled economy. A Utah pioneer in health care is enjoying its greatest success. Myriad Genetics is a company embraced by investors and ready to expand its workforce.
Myriad may play a part in your family's health someday, if it hasn't already. The University of Utah spin-off develops molecular diagnostic products that help patients determine their risk for cancer.
Peter Meldrum, president of Myriad Genetics, said, "If you have a family history of cancer, we would analyze your genetics and determine whether you had inherited a gene from one of your parents that predisposes you, that gives you a much higher risk of developing cancer."
Your doctor can then help you work to prevent the disease or delay the onset.
Meldrum co-founded the company in 1991. He says revenue grew steadily over the past five years. Last quarter, revenue grew 58 percent. Myriad stock is up 30 percent since the beginning of the year. And the company is hiring, filling 50 positions now and 200 more through the year.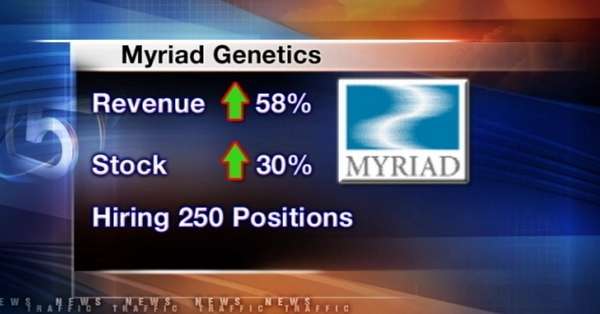 "We're very fortunate to have a very talented, dedicated, hard working group of employees who are passionate about what we do," Meldrum said.
A big part of the company's success is that this is the direction medicine is headed. Doctors don't just react to diseases, they work to proactively prevent them.
Debbie Gonzales, a senior laboratory manager, said, "What we do is very important for the patient for the long run. Every sample that comes in the door, there's a patient behind that."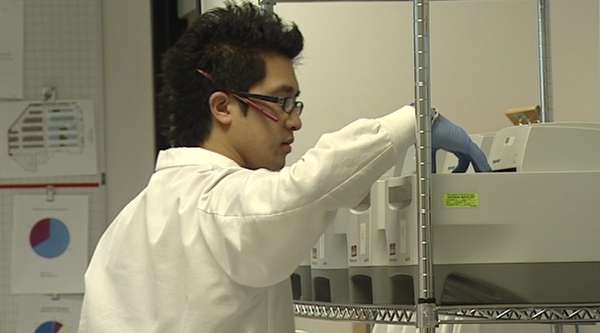 Myriad's six products assess the risk of breast cancer, ovarian cancer, colon cancer, uterine cancer and melanoma. Ideally, they save lives and money.
"It's much easier to identify risk of disease than to spend hundreds of thousands of dollars treating somebody with cancer for the rest of their life," Meldrum said.
In the future, Meldrum wants Myriad to become the dominant player in the field it pioneered. As for those jobs, Myriad is looking for research technicians and data analysts.
E-mail: jboal@ksl.com
×
Related links
Most recent Utah stories