Estimated read time: 2-3 minutes
This archived news story is available only for your personal, non-commercial use. Information in the story may be outdated or superseded by additional information. Reading or replaying the story in its archived form does not constitute a republication of the story.
Team coverageGov. Jon Huntsman says there is common ground for rights for same-sex couples. Always a champion of Utah's Amendment 3, defining marriage as between one man and one woman, the governor says it's time to end divisiveness beyond that.
Huntsman says he supports civil unions, and that support actually goes beyond the Common Ground Initiative gay rights groups are supporting this year.
The governor's comments have stirred up a hornet's nest in the Legislature, which has traditionally said "no" to anything that has to do with gay rights.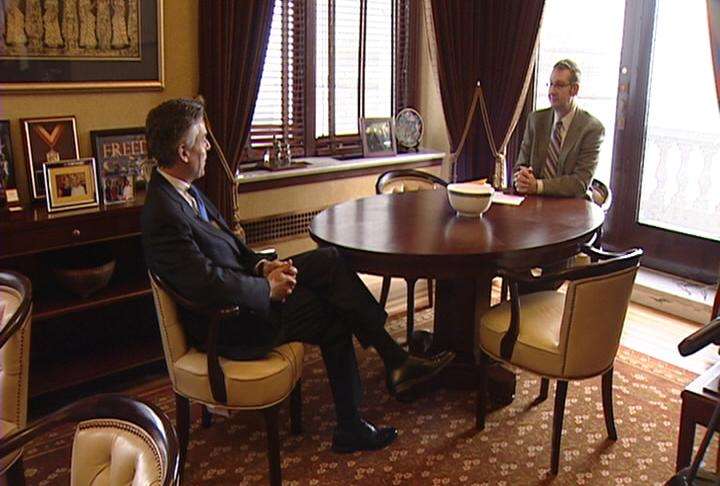 "We went on record with where we came down with the Common Ground Initiative, including civil unions; and it now at least gives us an idea of where we want to go, if that's where the community is," Huntsman said.
The problem, he admits, is that the community is divided about gay rights. A KSL TV-Deseret News Dan Jones poll in January showed just how divided it is:
39 percent said rights should not be expanded to same sex couples
53 percent said they support rights like tax breaks, death benefits and visitation, but not marriage
8 percent said they didn't know
Rarely is the Legislature influenced by polls, however. Conservative Rep. Chris Buttars, R-West Jordan, simply said he was shocked at the governor's statement. In fact, most legislators were reluctant to comment on the record.
But the Eagle Forum's Gayle Ruzicka would not mince words. In fact, she said, "Well, shame on him (Huntsman)."
Ruzicka went on to say, "The legislators up here who are real Republicans will continue to act like real Republicans, and they will defeat this legislation. The governor will not have an influence, so I don't know what he thinks he's doing or why he's doing this."
But Huntsman told us, "We have the ability to enhance equal rights toward others, and we haven't done enough of that, and we need to have a further debate and discussion in this state about what that means."
Sen. Scott McCoy, D-Salt Lake City, has long been involved in gay rights and says the governor's attitude spells progress in Utah. "The [LDS] Church and the governor and others are coming to debate and saying: 'There are areas where we can stand together rather than stand divided,'" McCoy said.
McCoy was referencing statements by The Church of Jesus Christ of Latter-day Saints indicating the Church would not oppose certain specific legal rights for gays. A package of laws that would do just that, however, has not fared well in the Legislature; two of the four measures have already disappeared.
E-mail: rpiatt@ksl.com
E-mail: mrichards@ksl.com
E-mail: aadams@ksl.com
E-mail: athomas@ksl.com
×
Related links
Most recent Utah stories