Estimated read time: 2-3 minutes
This archived news story is available only for your personal, non-commercial use. Information in the story may be outdated or superseded by additional information. Reading or replaying the story in its archived form does not constitute a republication of the story.
A dog owner says he was beaten with a night stick eight times because he left his dogs in his car for a few minutes.
Chris Lauridsen insists police had no business investigating him about leaving his two dogs in the car on a 40 degree day while he went inside the bank. But Provo police say he was very uncooperative with officers, and that forced them to get physical so they could place him under arrest.
Lauridsen went inside the bank, but left his two dogs in his car on Monday afternoon. Someone called 911 to report what they considered animal cruelty.
Lauridsen admits he was angry when an animal control officer began to question him about it. "The first officer said I was being belligerent. I didn't know that was a crime," he said.
The officer called for backup, and several more officers responded. Lauridsen says the last one jumped into the situation without even talking to the other officers on scene.
"Three backup officers arrived, and the third one that arrived got out of his truck with his billy club, walked up to about 15 feet away from me, said, 'Turn around!' I said no, and he started beating on me," Lauridsen said.
Provo police Capt. Cliff Argyle said, "The situation degraded to the point the officer felt he needed to affect an arrest. He attempted to do so; a physical altercation ensued between the two of them."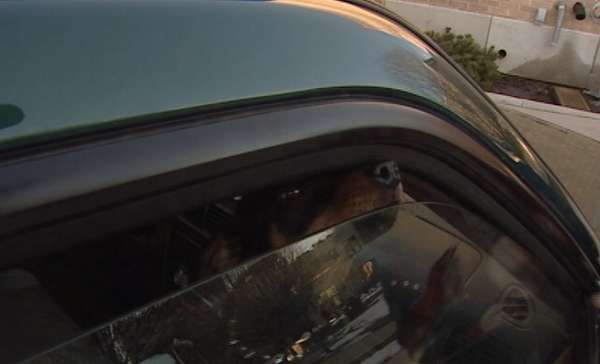 When it was all over, Lauridsen was in handcuffs with bruises on his head, neck, shoulder, chest, back and legs.
"This individual just approached our police department with his concern yesterday. Today it is being investigated. These things can take a little while, but as we speak today, it's being investigated by one of our internal affairs officers," Argyle said.
Lauridsen is meeting with a lawyer tomorrow and may pursue a lawsuit against the officers. "I think it's obvious that at least certain officers on the force need to have more training or maybe more discipline," he said.
Police eventually issued Lauridsen a citation for resisting arrest and assault on a police officer. He was not booked into jail, nor was he cited for leaving his dogs in the car.
Lauridsen says he will fight the charges in court.
E-mail: spenrod@ksl.com
×
Most recent Utah stories