Estimated read time: 3-4 minutes
This archived news story is available only for your personal, non-commercial use. Information in the story may be outdated or superseded by additional information. Reading or replaying the story in its archived form does not constitute a republication of the story.
Team coverageThousands of Utahns waited in line to challenge the notion, there's no such thing as a free meal.
Denny's restaurants gave away free Grand Slam breakfasts, which include pancakes, eggs, bacon strips and sausage links, until 2 p.m. as part of their Super Bowl promotion.
People are in pajamas, business suits and uniforms, waited patiently at the Denny's at 250 W. 500 South in Salt Lake City.
Melanie Burt said, "I didn't even know about free food until I got here." But Melanie says she'll stick around for breakfast.
David Pond says he's a poor college student. He says he heard about the free deal from a friend in college.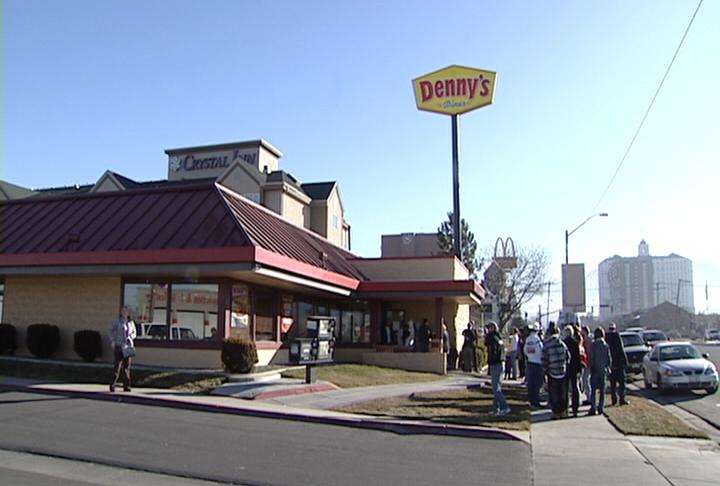 I asked, "You didn't see the commercial in the Super Bowl?" He answered, "No; no TV."
Inside, people are sitting by others they don't even know as they chow down.
Consumers love the idea of free breakfast, but will it help? Local marketing experts say only time will tell, but right away the answer is yes.
Scott Rockwood, CEO of Richter7 Advertising, says, "It buys Denny's a lot of goodwill in terms of being sensitive to the times. I just think there's a lot of residual value that comes to them probably amplified by the state of the economy."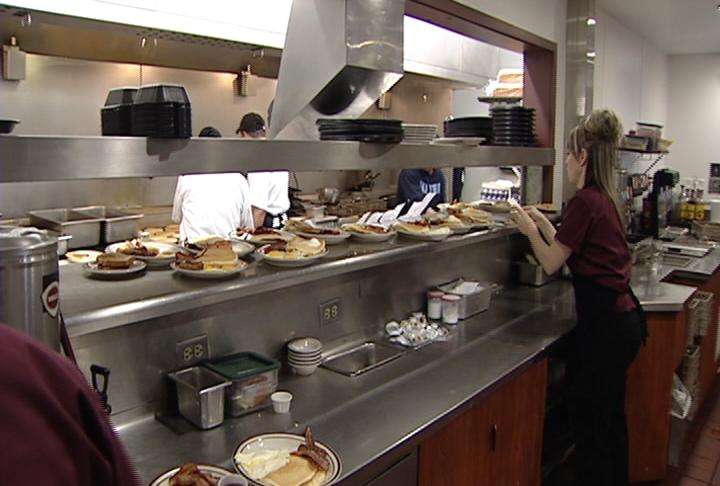 Doug Colby, president of daVinci Advertising, agrees. He says, "Everybody knows how to participate in free. They're national. Everybody knows where they are. It's so great because they're going to get a lot of customers back who haven't been in for a long time, and all they have to do is treat them right, and they'll come back."
Phyllis Khoury, manager of Denny's on 250 W. 500 South, says the promotion has brought in a lot of people who haven't been to Denny's for a while.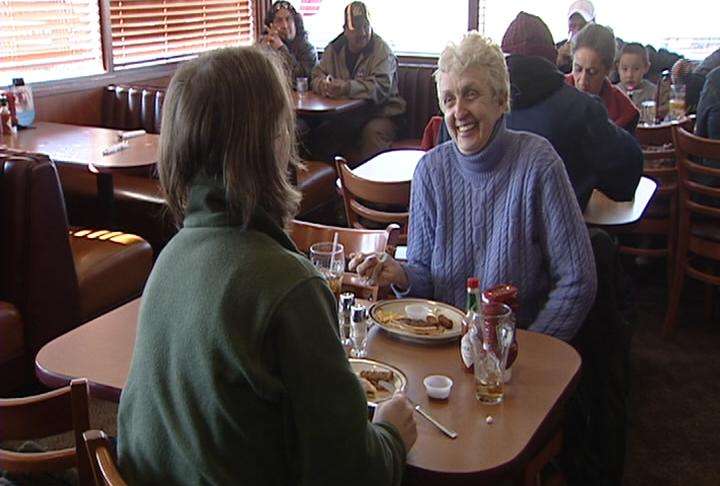 Denny's has promoted the freebie heavily, with a 30-second ad that aired during the third quarter of the Super Bowl on Sunday, another 15-second ad during the post-game show and a full page ad in USA Today's Monday editions. The company reported 14 million hits on its Web site between Sunday night and Monday morning _ the site read "service unavailable" at midday Tuesday.
To be prepared for all the people outside, there were more employees working inside and a lot more food.
Drinks were not included in the free breakfast. So, Denny's could make up some of its cost with that. And, we're told servers did make pretty good tips today.
The Spartanburg, S.C.-based company anticipates up to 2 million people will take advantage of the deal.
Free giveaways are not something new among food operators. In November Starbucks offered a free cup of brewed coffee to anyone who asked on Election Day, while Krispy Kreme Doughnuts Inc. gave away star-shaped doughnuts. Ice cream maker Ben and Jerry's also offered a free scoop as part of a celebration of the election.
E-mail: corton@ksl.com
E-mail: mrichards@ksl.com
(Copyright 2008 Bonneville International Corporation. All rights reserved. This material may not be published, broadcast, rewritten, or distributed. AP contributed to this report.) AP Rights & Restrictions
×
Related stories
Most recent Utah stories